December 15, 2014
Good news for bicyclists who take MetroLink. Effective immediately, two bicycles, instead of one, will be allowed at each designated area on the trains.
The updated policy will not change the way you board MetroLink with your bicycle. If you are bringing your bicycle on MetroLink, you will still enter the train at the rear door of the first train car or enter the front or rear door of the second train car. Two bicycles are allowed in each Bicycle Parking Zone in the doorways on the train, and an additional bicycle belonging to a child with an adult is also permitted.
We ask that you let all other passengers board and exit MetroLink first, before you start to bring your bike on board. If the train is too crowded, you may have to wait for the next train.
While on MetroLink, you should stand with your bicycle in the doorway or near the door. Do not leave your bike unattended or put it on the kickstand, because it could fall over and injure you or other passengers. When it is time to get off the train, roll your bicycle off the train as quickly as possible, being careful to avoid other passengers.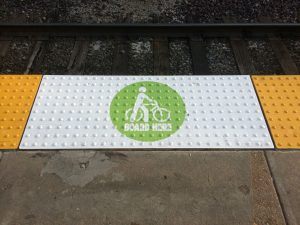 Meanwhile, Trailnet and Metro are still testing specially designed bike areas on the platform at the Central West End MetroLink Station, the busiest station on the MetroLink system. The special bike tiles on the platform should help cyclists easily understand where they can board the train with their bikes, speeding up the boarding process and making it safer for all passengers.
If the special bicycle tiles are durable enough to handle the foot traffic of passengers at our busiest station, then we will consider installing them at all MetroLink stations in the future.
Return to Blog