January 16, 2015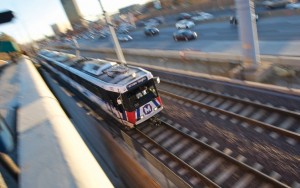 Rail maintenance work on the MetroLink system may result in brief delays next week on Tuesday and Wednesday night (January 20 and January 21) for some Red Line passengers, so customers are encouraged to allow a little extra time for their commutes. To accommodate crews, MetroLink will operate on a single track between the Belleville MetroLink Station and the College MetroLink Station.
On Tuesday and Wednesday (Jan. 20-21) from 9:30 p.m. until the end of service, MetroLink will operate on a single track at the Belleville and College MetroLink Stations. Red Line customers may experience delays of 5 to 10 minutes. Blue Line service will not be impacted by this work.
Updates on MetroLink operations can be found on the Rider Alert section.
Return to Blog
Categories:
Construction