June 5, 2015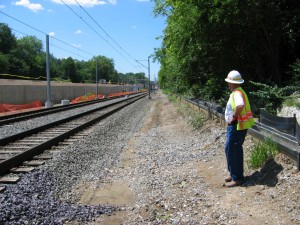 Updated (6/8/2015): MetroLink single track work has been cancelled Wednesday and Thursday at the Forest Park-DeBaliviere, Delmar Loop, University City-Big Bend and Skinker Stations.
MetroLink riders are encouraged to allow extra time for their commutes next week (June 8-14) as maintenance work on the MetroLink system may result in delays for some Red Line and Blue Line passengers. To accommodate work crews, MetroLink will operate on a single track at the:
College Station
Shiloh-Scott Station
Forest Park-DeBaliviere Station
Delmar Loop Station
Skinker Station
University City-Big Bend Station
Monday through Thursday (June 8-11) and Sunday (June 14) from 8 p.m. until end of service, regular Red Line MetroLink service will end at the College MetroLink Station. Customers who normally park at the Shiloh-Scott Station are encouraged to park at the College Station on the affected dates to avoid delays after 8 p.m.
Eastbound passengers wishing to travel to the Shiloh-Scott Station will need to get off the Red Line MetroLink train at College Station and board a Shuttle Train to continue to the Shiloh-Scott Station. Eastbound passengers traveling from College Station to the Shiloh-Scott Station may experience delays of 5 to 10 minutes.
Westbound passengers at the Shiloh-Scott Station will need to board a Shuttle Train and ride to College Station where they can board a westbound Red Line Westbound passengers traveling from the Shiloh-Scott Station to College Station may experience delays of 20 to 25 minutes.
Updates on MetroLink operations can be found on the Rider Alert section.
Return to Blog
Categories:
Construction