November 7, 2014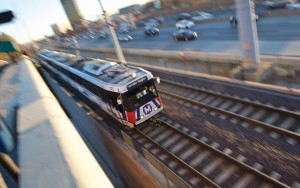 Rail maintenance work on the MetroLink system may result in brief delays for some Red Line passengers next week, so customers are encouraged to allow a little extra time for their commutes.
To accommodate the crews, MetroLink will operate on a single track at the Wellston MetroLink Station and the Rock Road MetroLink Station Monday through Friday (Nov. 10-14) and on Sunday (Nov. 16), from 8 p.m. until the end of service each night. MetroLink will also operate on a single track at the same locations from the beginning of service until the end of service on Saturday (Nov. 15).
Red Line customers may experience 5 minute delays. Blue Line service will not be impacted by the rail maintenance work.
Updates on MetroLink operations can be found online in the Rider Alert section.
Return to Blog