March 21, 2014
Metro's First 60-Foot Buses Will Go Into Service June 9
Return to Blog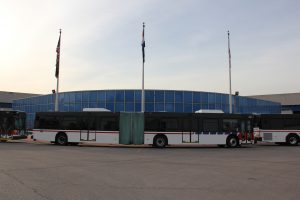 To deliver on a promise in the long-range transit plan, Moving Transit Forward,  to better move more people between the North and South corridor of St. Louis and to address high ridership numbers on the #70 Grand Line, Metro purchased 15 articulated buses.
The first longer vehicles are now starting to arrive in St. Louis. Today Metro invited the media to check out the newest addition to the MetroBus fleet.
The 60-foot buses will help address overcrowding issues on the #70 Grand Line, the busiest MetroBus route in the St. Louis region.
The articulated buses which are made of two sections linked by a pivoting joint, are 50 percent longer than the 40-foot buses in service today on the Grand Line and can accommodate 25 percent more passengers. Each articulated bus has 54 seats and more room for standing passengers.
We purchased the used articulated buses from Complete Coach Works in California for $430,000 each. In comparison, a similarly equipped new bus would cost an estimated $800,000.
Complete Coach Works  is rebuilding everything inside the buses from the wiring to the engine so they are like new buses.
"We were able to buy the pre-owned buses for half of what it would have cost to purchase new articulated buses," said Ray Friem, Chief Operating Officer for Transit Services at Bi-State Development Agency.  Our maintenance program is one of the best in North America, and that will allow us to effectively maintain these pre-owned vehicles.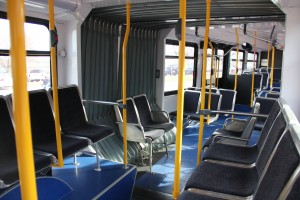 The total cost to bring the 15 rebuilt articulated buses to the St. Louis region is about $6.4 million. The buses were purchased with federal funds and local monies.
"The fact that this forward thinking and progressive organization recognizes and acknowledges both the financial and environmental benefits of remanufacturing and repurposing transit buses for a new service life rather than letting them add to the waste and pollution of landfills is a great example of their dedication to the environment as well as how seriously they take their responsibility to be good stewards of our federal tax dollars," said Macy Neshati, Vice President of Sales and Marketing for Complete Coach Works.
Five articulated MetroBuses will start serving the #70 Grand route June 9. All 15 will be in service by the end of the year.
Between now and June 9, Metro will train operators and mechanics, install advanced  "smart" technology on the buses and make other preparations for them to go into service.
The #70 Grand Line is about 10 miles long and currently serves more than 9,000 boardings on an average weekday.

Created with Admarket's flickrSLiDR.
Return to Blog