December 22, 2010
Metro's New Website Now Available Online – Give Us Your Feedback!
Return to Blog
Last February, most of you probably noticed that we changed the look of our main website, www.metrostlouis.org.  But while the home page changed appearance, the infrastructure and utility of the site largely stayed the same.  Now, Metro is launching a brand-new website with not only a new appearance, but also new organization of information and many new customer features.
What's new?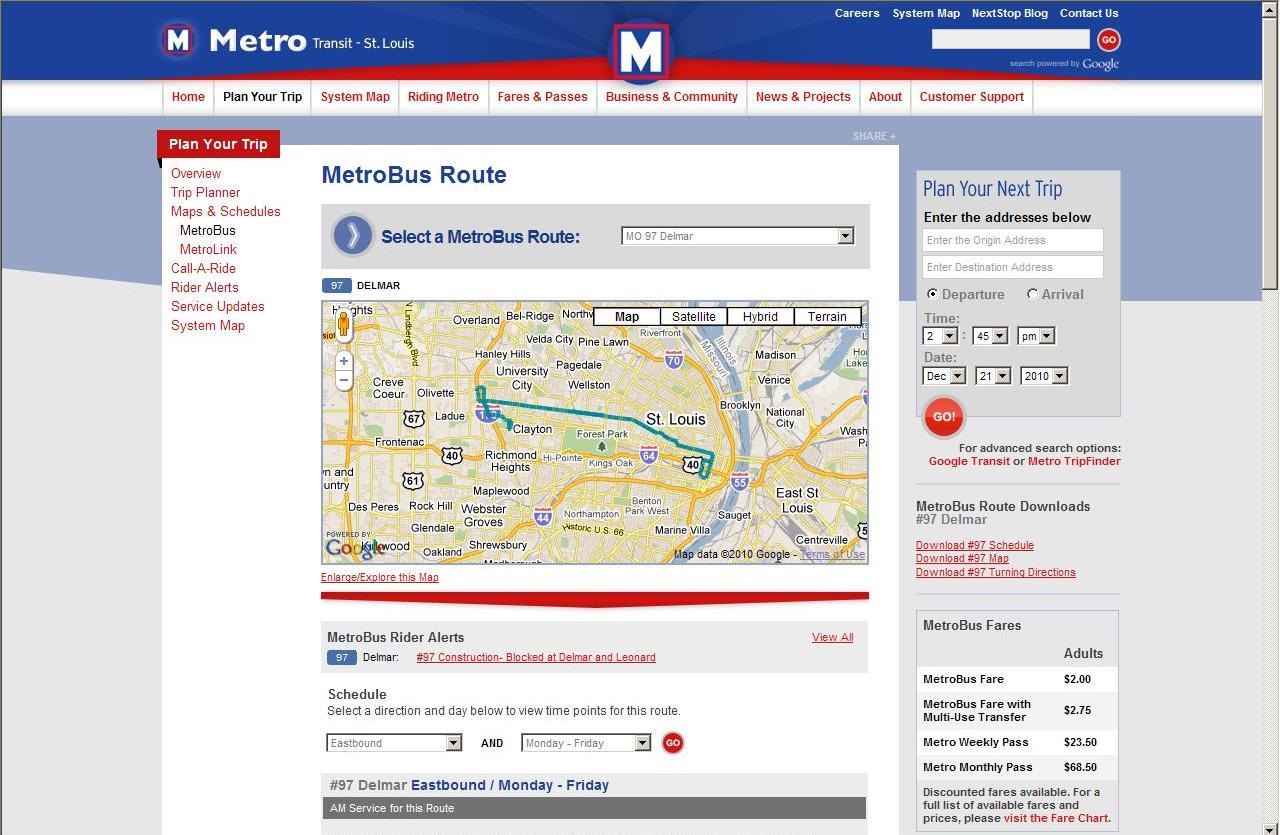 New MetroBus route and MetroLink Station pages
Some of the biggest changes are the MetroBus route pages and the MetroLink station pages. They now includes embedded Google Maps and description of every MetroBus route. If a customer is thinking about taking a particular bus route, they can see where the line starts and ends, and view stops along the way. In addition, the route pages have pull-down HTML timetables that can more easily be viewed from a desktop or mobile phone.  PDF downloads are still available as well.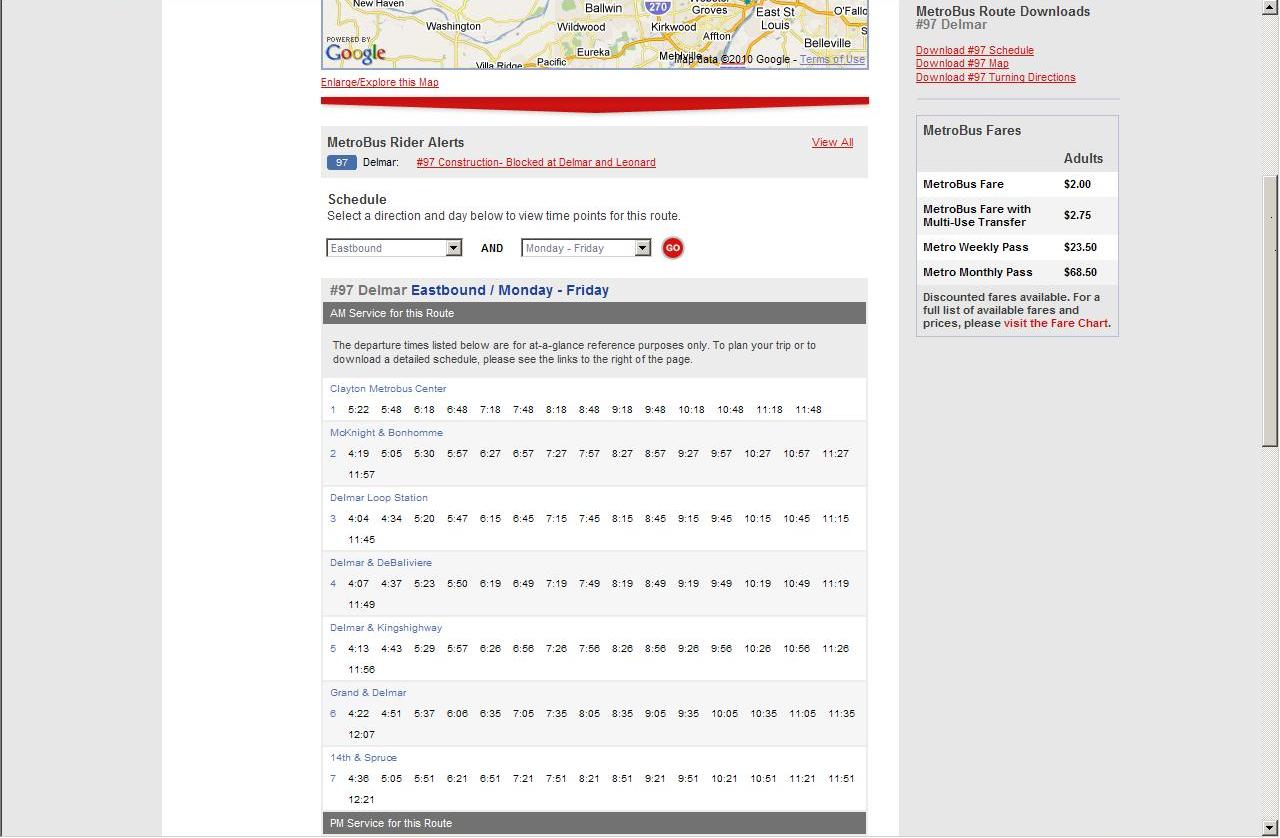 MetroLink station pages also have embedded Google maps, station photos and HTML timetables that allow customers to see station arrival times based on direction and day of service.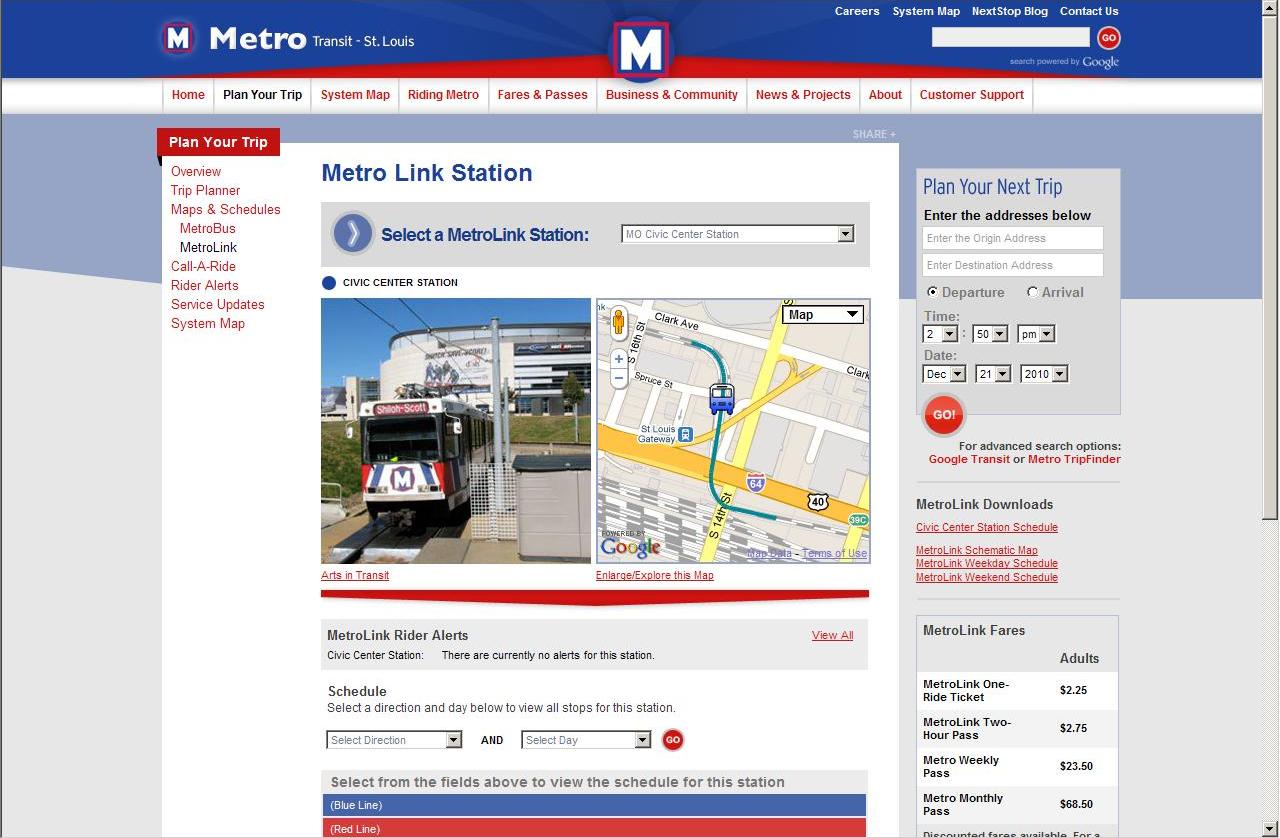 Both MetroBus and MetroLink route and station pages also include alerts for each bus route and MetroLink station.
Streamlined information on "How To Ride"
Another improvement is making "How to Ride" information more streamlined and easier to find. Information includes how to purchase your fare, boarding the bus or train, signaling your stop, and bringing on bikes or parking your car at a MetroLink station. These areas will continue to develop in accordance to customer feedback, and will eventually include more "How To" videos.
Better integration with social media and rider alerts
Another function of the new website is integration with our social media and rider information delivery platforms. Every page will have sidebar information for news and information from the Nextstop blog, rider alerts and Metro's Twitter feed. We will continue to expand the reach of social media and other means of timely communication to get information to riders.
Provide more information for community partners
Metro is in the business of providing public transit to the community, but that is just one service we provide as a development agency. On the new website, you will find more information about our other businesses – the Gateway Arch at the Core of Discovery and the St. Louis Downtown Airport – as well as our long-term projects Arts in Transit and Moving Transit Forward Long-Range Plan. In addition, as the website continues to flesh out, more information we be made available for organizations and groups interested in transit-oriented development, sustainable development, alternative transportation and regional transportation information.
Also, information is available for people interested in doing business with Metro or joining the Metro team.
Emphasis on transparency and accountability
The new website features easy-to-find information on Metro projects and grants, public meeting and documents, board policies and other information.  Nextstop will continue to drive the discussion on changes at Metro and how they impact customers.
Flexibility and responsiveness to customer demand
The new website should be more user-friendly from a customer's perspective, but it also allows Metro employees more control and access to content. If customers suggest that a particular feature would be helpful to include in website content, it can be more easily integrated into the new site.
We hope that you like the new website and its features for customers and community partners. Please tells us what you think – what you think, what could be added, and what will be especially useful for getting around on Metro.
Return to Blog
Categories:
Capital Projects
,
Economic Development
,
Transit Benefits