October 14, 2014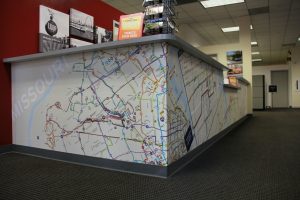 If you haven't walked into our MetroStore lately, you should. We've jazzed it up a bit.
This year, MetroStore underwent a complete makeover that included repainting the walls with an added splash of color that boasts photos of our MetroBus, MetroLink and Metro Call‑A‑Ride fleet as well as of major St. Louis attractions. The ticket counter is now wrapped with our MetroBus system map and display cases are stocked with new merchandise.
In the past, MetroStore sold trinkets such as postcards, key chains and magnets. Now, we've stepped it up a notch. Today, MetroStore sells Metro branded T-shirts, caps, glass water bottles, covered ceramic coffee mugs, book bags and several more items to come.
In addition to new merchandise, customers can still purchase all of their transit tickets and passes. MetroStore sells the following tickets and passes in adult and reduced fares for seniors, children, and customers with disabilities, when applicable:
Metro Monthly Pass
MetroLink One-Ride Ticket
Metro Two-Hour Pass
Metro One-Day Pass
Metro Two-Hour Passes (in Books of 10)
Metro Weekly Pass
Metro Monthly Combo Pass (which includes parking at the Shaw Park Parking Garage)
Metro College Semester Passes
Downtown Trolley One-Day Ticket
Forest Park Trolley One-Day Ticket
Madison County Illinois System Pass
The MetroStore, located at 701 Convention Plaza in downtown St. Louis, inside the America's Center, is open weekdays from 8:30 a.m. to 5 p.m. You can also order Metro Passes online or over the phone by calling 314-982-1495 using a credit or debit card and your passes will be mailed to you.
Return to Blog
Categories:
Transit Benefits