October 10, 2012
Miniature Stealth Fighter Jet is Big Hit With Children at Fall Fly-In at St. Louis Downtown Airport
Return to Blog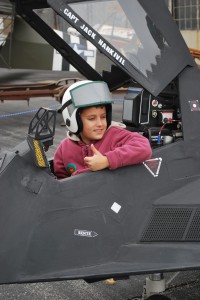 The chilly, overcast weather Saturday at St. Louis Downtown Airport could not dampen the energy or the spirits of 8-year-old Jack or his friend, 8-year-old Kenny. They could not contain their excitement about getting to sit in the cockpit of an F-117A "Nighthawk" Stealth fighter jet that was just their size. Each boy's name was placed on the side of the canopy as he got ready to have his photo taken in the cockpit of the miniature aircraft. That's because the canopies of real fighter jets are personalized with the names of the Air Force pilots who fly them, so it's only fitting young pilots would be extended the same courtesy for their photo opportunities.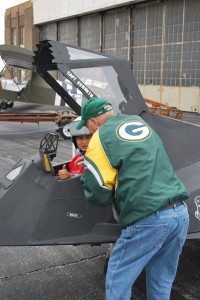 Richard Crupi built the little plane from scratch for his grandchildren.  It took him three years to finish the plane which he built to one-third scale and which has a golf cart engine in it. This is the sixth year Crupi who is from Hopkinsville, Kentucky said he has taken the mini fighter jet to major air shows — charging a small fee to take photos of pint-sized future pilots in the cockpit. As a retiree, he has turned this labor of love into a small business.
A love for aviation runs even deeper in the family. Crupi's nephew is an Air Force pilot stationed in Arizona who currently flies A-10 Warthogs and you will find a large photo of him near the plane. Crupi enlarged a photo of his nephew as a guide to demonstrate the maximum height allowed and then he cut it out and put it on a stand.  Children who wanted to hop in the cockpit and have their picture taken could not be taller than 4'10".
The cockpit photos in the mini Stealth were just one of the activities for children at the Fall Fly-In October 6 at St. Louis Downtown Airport sponsored by the Experimental Aircraft Association (EAA) Chapter 64 and the Greater St. Louis Air & Space Museum. The computer flight simulator geared for children and young people was another popular attraction and there was a 3-axis moving children's flight simulator where kids could also put their flying skills to the test.
While some visitors had their photos taken in the cockpit of a McDonnell Douglas F-4 Phantom II fighter jet and took a close look at the home-built aircraft on display, others opted to get their feet off the ground by going for a rides in a 1941 Waco biplane and a T-6 Texan Warbird.
The event gave aviation enthusiasts and Bi-State area residents a chance to explore the Greater St. Louis Air & Space Museum in Hangar 2 which is filled with historic aircraft, early aviation exhibits and interesting memorabilia. If you have never toured the museum which is located in the old hangar that Charles Lindbergh, Amelia Earhart, and other famous aviators visited, you should check it out in the future. You might be surprised at what you find there.
Return to Blog