September 16, 2010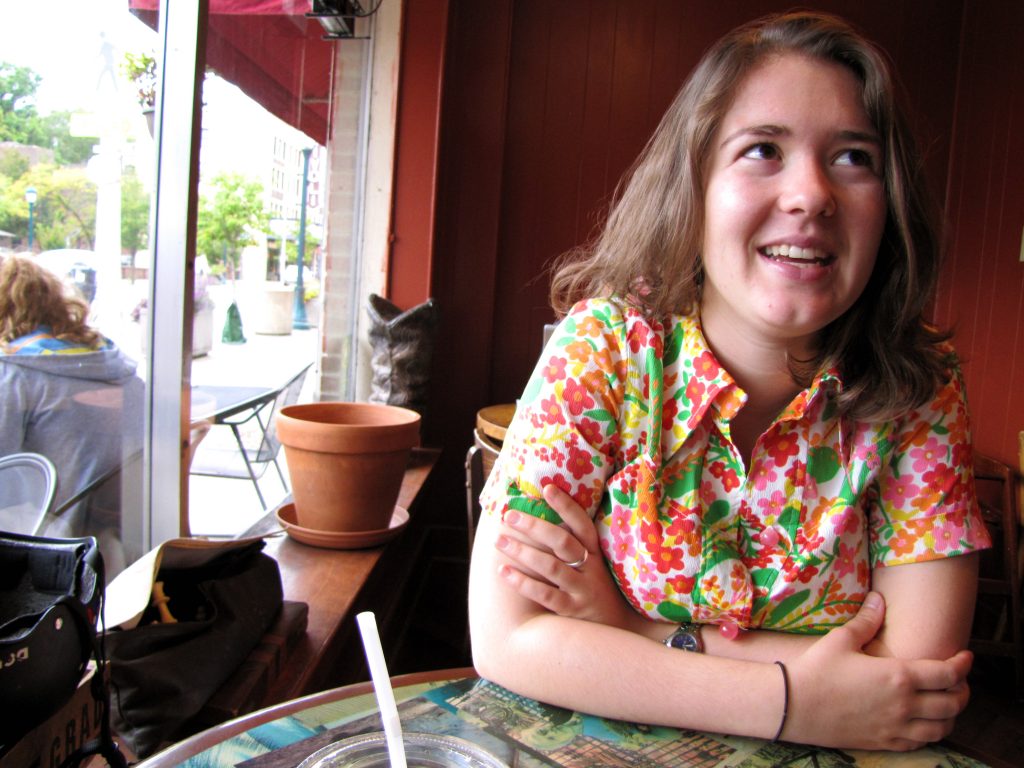 The door swings open, the bell dings, and Liz Kramer enters the coffee shop in a blur of color, confidence and a bright smile.   Pulling off a black bike helmet, Kramer is warm and engaging, but obviously focused.  She apologizes for scheduling her day tightly and sits down to talk, eyes alert, ready for questions.  I've known Kramer since she was the original "Miss MetroLink", a playful turn on pageantry turned toward advocacy.  Even wearing a crown and sash, she's always gracefully forward.
She has also served on the Citizens for Modern Transit's Board of Directors and organized student support for the last two transit funding initiatives; Kramer is in many ways, as demonstrated by her iconic picture in the St. Louis Post-Dispatch, the face of the young generation of transit advocates.  But when asked why transit, Kramer provides a unique source of inspiration: food.
In 2007, Kramer, who is originally from Michigan, worked for Gateway Greening, an organization that promotes urban food projects and education.  At Gateway Greening, she found that one of the biggest issues regarding food access was public transit.  "Even if there was a grocery or market store in area, you might not be able to get certain foods.  I was struck how necessary it is to own a car in St. Louis to get access to food and how it is taken for granted."   Indeed, during her years at Washington University, Kramer did not have a car and rode transit everywhere.  This helped lead to one of Kramer's more fun distinctions: she was the first "Miss MetroLink", a title she created in the summer of 2007.
"My friends and I were downtown during the Fourth of July and we saw a pageant for Miss Metro.  And we were cheering her on thinking, how cool is that?  A pageant for public transit!"  Kramer and her friends soon realized the pageant represented metro St. Louis, not Metro Transit, much to their disappointment.  But while riding the train, ("for like the fifthteenth time that weekend,") Kramer joked that she could serve as Miss MetroLink.   So for her 21st birthday, her friends made her a crown and sash, which along with a bright blue prom dress, she wore out.  Then Kramer and Claire Nowak-Boyd, another Washington University student advocate, took it a step further in the fall of 2008.  Mimicking the MTA Pageant in New York City, they hosted a St. Louis MetroLink Prom to raise awareness about Proposition M.
"I'm interested in the idea of things being fun, including your commute.  How people can have fun taking transit, doing something fun on transit and then they become advocates," Kramer says, smiling.  "Things like the MetroLink Prom are a valuable way to get people to support something by having fun.  It's attention-getting, and has a viral component to get young people interested."
And the interest has continued: Kramer, Nowak-Boyd and several other will be hosting the Third-Annual MetroLink Prom on October 1.
Kramer is now moving on to Chicago to participate in an independent alternative design program called Archy Works, which focuses on solving urban problems through design.  But she has several suggestions for St. Louis transit.
"I think the next steps are reestablishing support from people who were upset about service changes, being responsive to riders and building the next base of riders.  It's important that young people be able to connect with transit.  Metro, governments and organizations should work together to create a multi-modal transportation network, as that's what the next generation of transit users will want."
And speaking to that next generation of transit advocates in St. Louis? "It's important not to take your transit system for granted.  Remember to appreciate it, have fun with it and give feedback.  Then it's really important to have people working in transit listening, paying attention.  We're in a community, a scale, where people can say things and get a response."
And the final send off: "Don't let those anti-transit booerns get you down," she adds, grinning, using her own word.  They haven't seemed to get Liz Kramer down.  She still plans on having a lot of fun.
Return to Blog
Categories:
Metro Lifestyle
,
Transit Benefits