September 16, 2014
Missouri Lottery Celebrates City's 250th Birthday With "Winsday" Ticket Giveaway
Return to Blog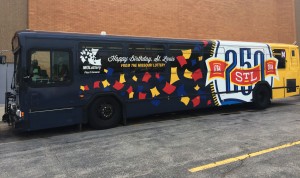 Some lucky MetroBus customers are going to receive a special "Winsday" surprise on their public transit trips tomorrow.
Metro, STL250 and the Missouri Lottery have teamed up again this month to offer Missouri Lottery free play coupons (while supplies last). Passengers who are 18 and older riding on the special STL250 MetroBus vehicle between the hours of 6 a.m. and 9 a.m. are eligible.
"Riders had so much fun with this promotion last month that we decided to bring it back," said May Scheve Reardon, executive director of the Missouri Lottery.
The "Winsday" ticket giveaway is in celebration of the 250th birthday of the City of St. Louis. So that's it's a surprise for Metro riders, the route will not be disclosed ahead of time. Here are a couple of hints that might help boost your luck. The specially wrapped STL250 MetroBus will pass by:
Blueberry Hill
St. Louis County Government Center
Scottrade Center
The Missouri Lottery plans to continue this promotion one day each month through the end of the year.
Return to Blog
Categories:
Metro Lifestyle