August 6, 2014
Missouri Lottery Surprises MetroBus Riders With Free Lotto Coupons
Return to Blog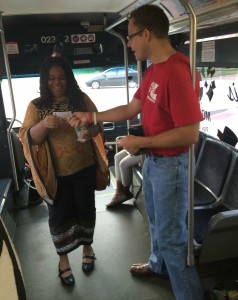 The City of St. Louis is celebrating its 250th birthday this year, and usually the person celebrating the birthday is the one who receives all the presents.
This morning though, dozens of lucky MetroBus riders were in the right place at the right time to receive a little gift in honor of St. Louis' milestone birthday.
STL250 said, "It's a great way to celebrate the city of St. Louis' birthday  and reward bus patrons with a free play."
STL250 teamed with Metro and the Missouri Lottery bright and early this morning. Missouri Lottery representatives were aboard a specially wrapped STL250 MetroBus vehicle. They surprised passengers with special coupons that can be redeemed for one free lottery ticket at authorized lottery retail businesses.
Lottery officials and STL250 wanted the giveaway to be a fun birthday surprise for MetroBus riders so the route was not announced ahead of time. The STL250 bus just happened to be on the #91 Olive MetroBus route today. MetroBus vehicles are not assigned to specific routes, with the exception of the articulated buses which currently are only in service on the #70 Grand Line.
The Missouri Lottery says it would like to continue the surprise free play coupons giveaways one day each month through end of the year. So, you never know. Next month, when you hop on the bus, it could be your lucky day. You may find the Missouri Lottery team waiting for you.
Return to Blog