April 21, 2011
Mixed-Use Development Project Breaks Ground near Emerson Park MetroLink Station
Return to Blog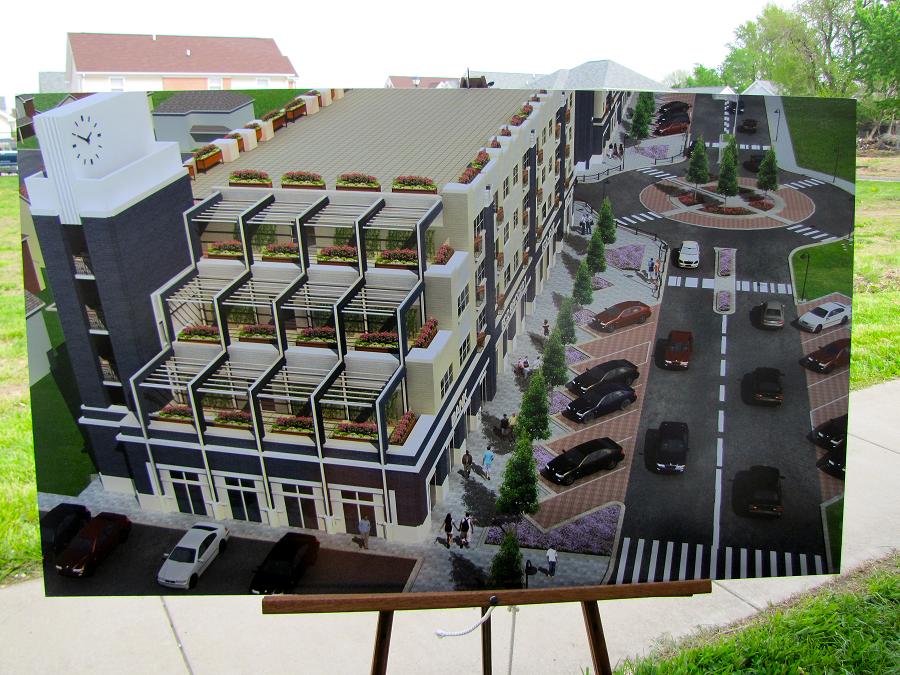 Today marked the groundbreaking of a $17 million development in East St. Louis adjacent to the Emerson Park MetroLink Station, Jazz @ Walter Circle. The $17 million development is a public-private partnership between the East St. Louis Housing Authority (ESLHA), Hampton Roads Ventures and Dudley Ventures, and is the first in the nation to combine public housing development funds from the U.S. Department of Housing and Urban Development with New Market Tax Credits.
While Metro will serve the new development through our MetroLink station, the Agency is not a partner in this project.  Metro welcomes the new development.  "This is a tremendous project and we are glad it is being built near our Emerson Park MetroLink Station. It's a great example of transit-oriented development projects that could occur nearby other MetroLink stations," said  John Langa, Metro Vice President of Economic Development.
Jazz @ Walter Circle, designed by Farr Associates, will be a mixed-use, four-story facility with 74 affordable housing units for seniors with MetroLink access, a green grocery store, community credit union, a Southern Illinois Health Foundation Wellness Center, a 6,000 foot square-foot community center with a commercial kitchen, and roof and terrace community gardens. The development is located at North 15th Street and Bowman and Exchange Avenues in East St. Louis. This phase of the development is scheduled for 2012 completion and will be going for LEED Gold rating in green building.
According to Elizabeth Tolliver, Executive Director of ESLHA, the project idea came about in October 2009. Tolliver's vision for ESLHU was to not only fund affordable housing, but also become a developer itself, so she, along with other local East St. Louis leadership, went to work.  The project was proposed to Robert Jenkins, President of Hampton Roads Ventures, whose firm had invested in New Market Tax Credit project in other cities, but never in the Midwest. He said the sheer energy convinced him to invest in East St. Louis. "The enthusiasm and positive commitment of local leadership, especially East St. Louis Mayor Alvin Parks, ESLHU's Elizabeth Tolliver, and ESLHU Board Chair Edith Moore, convinced us to work on this project, and others, in East St. Louis. We realized we had a great community with which to work, plus the idea location next to public transit and undeveloped land."
Tolliver said that part of "selling" the development to both investors and the community was engaging in extensive community outreach and input. They hosted, with the architectural firm and consultants, 10 design charettes asking local residents what they would type of living spaces and amenities they wanted or needed.  They spoke about a strong need for healthy food options, access to health care and banking resources. In addition, Tolliver wanted to make sure that jobs remained after the concrete was poured. "We want to make sure we were not just building jobs, but also creating jobs for local residents."
Jazz @ Walter Circle is the first phase of three affordable housing developments in East St. Louis planned for the next three years. ESLHA anticipates completing approximately $70 million of housing and economic development activities in three areas, and the architects told us they are paying close attention to transit options, using Jazz @ Walter Circle and the other phases as models of how cities can smartly use resource needs such as transit guide redevelopment in distressed areas.
Return to Blog
Categories:
Metro Lifestyle