March 16, 2012
Mobile Markets Pulling into Several Metro Locations Starting Next Week
Return to Blog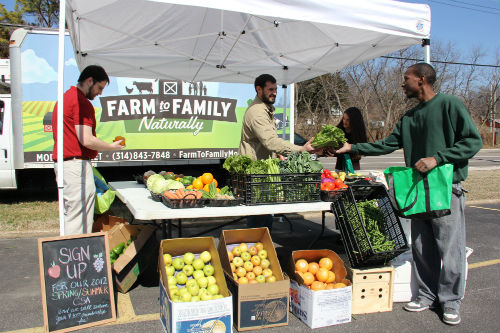 I don't know about everyone else, but all this warm weather and spring time blooming is making me think of sunshine and farmer's markets. There is nothing like being able to come home and fix a hearty, nutritious meal with fresh, local fruits and veggies. Now many Metro customers won't have to make an extra stop at the store – the market is coming to them! The Farm to Family Naturally Mobile Market starts next week at the Delmar Loop MetroLink Station, Riverview-Hall MetroBus Center, North Hanley MetroLink Station, and Emerson Park MetroLink Station.
The partnership between Metro Transit and the Farm to Family Naturally Mobile Market will give commuters and neighborhood residents more convenient access to healthy fruits and vegetables produced locally and around the country. The Mobile Market, a community initiative program launched by Sappington Farmers' Market, will sell foods grown or made on farms in the region such as eggs, vegetables, fruits, jams and jellies, relishes, and fresh breads. The Mobile Market will connect nearby residents and Metro customers to healthier food choices near accessible public transportation. Sappington Community Supported Agriculture (CSA) subscribers can also arrange to pick up their weekly box at the Mobile Market.
The Mobile Market will set up on the parking lots of these four Metro Transit Center locations:
Tuesdays 1-4 p.m. Delmar Loop MetroLink Station
660 Rosedale in St. Louis
Wednesdays 9-Noon Riverview-Hall Transit Center
Riverview Drive and Hall Street in St. Louis
Wednesdays 3-5:30 p.m. North Hanley MetroLink Station
4398 Hanley Road in Berkeley, MO
Fridays 9-Noon Emerson Park MetroLink Station
929 North 15th Street in East St. Louis, Illinois
We'll see you there!
Return to Blog