June 12, 2020
Model for Transit Placemaking: MetroBus Stop Improvement in Maplewood
Return to Blog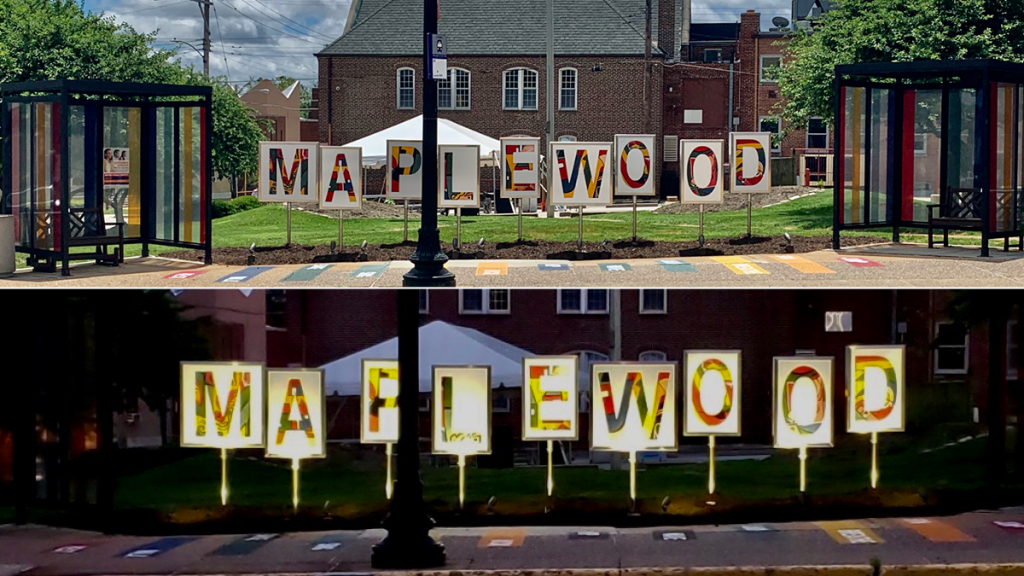 The corner of Manchester and Marshall in Maplewood, Missouri, is now home to a new and improved MetroBus stop, thanks to the Maplewood Transit Stop Transformation Project completed by Citizens for Modern Transit (CMT), AARP in St. Louis, the City of Maplewood, Citizens National Bank and KaBOOM!.
"This exciting project in Maplewood is a great example of the power of partnerships, and how working together, we can make positive improvements in the community," said Taulby Roach, President and Chief Executive Officer of Bi-State Development. "CMT, the City of Maplewood and the other partners helped turn this bus stop into a colorful, inviting space not only for Metro riders, but for nearby residents as well as pedestrians, cyclists, motorists and others who pass by there every day."
With enhanced shelters, a new public art installation and other improvements, this Maplewood bus stop could be a model for future placemaking around public transit locations. The public provided input and creative ideas during the planning process.
"Through placemaking, we can creative active, engaging spaces that enhance our neighborhoods and deliver a better experience for our riders," said Jessica Mefford-Miller, Executive Director of Metro Transit. "Our bus stops and transit centers are a part of more than 100 communities, and by working with our partners, we can make a positive difference for everyone in the St. Louis region."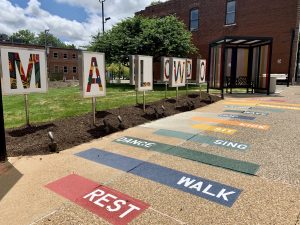 Served by the #31 Chouteau MetroBus route, the newly transformed stop includes two new bus shelters, repurposed from a former shelter, a bench and a glider bench for seating, and incorporates the colorful work of local award-winning artist Genevieve Esson for the public art installation. Her vision for the project celebrates the identity of the city and expresses a deep understanding and commitment to equitable development, the impact and possibility of play, and the ability for creative interventions to produce long-term impact in neighborhoods.
"Over the last several years, CMT and AARP in St. Louis have hosted a series of Pop-up Metro Markets to help area residents experience what it would be like if they could meet friends for coffee, grab groceries or take time out to relax, unwind or play in the vacant spaces currently surrounding MetroLink Stations," said Kimberly Cella, Executive Director of Citizens for Modern Transit. "The transformed Maplewood station brings these ideas to life as a permanent installment, while creating a more inclusive and engaging transit stop. We are very excited to open these improvements to the local community."
The design for the overall project was led by BlackArc Design, with input from residents.
Return to Blog