April 23, 2014
National Campaign Takes New Approach to Safety Around Railroad Tracks
Return to Blog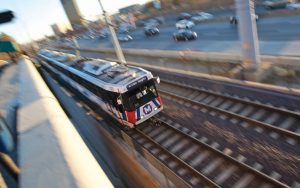 Every day, people are killed while trespassing on railroad tracks in the United States. Operation Lifesaver wants to do something to change that and Metro transit supports its efforts.
The nonprofit organization founded in 1972 and dedicated to rail safety public education, kicked off its new national See Tracks? Think Train! campaign this month.
Operation Lifesaver, along with federal safety agencies, the nation's railroads, and others launched the campaign as a way to raise awareness about dangerous pedestrian and driver behavior around railroad tracks.
In 2013, 908 pedestrians were injured or killed while walking on or near railroad tracks.  That is up 7.7 percent from 843 in 2012, according to preliminary data from the Federal Railroad Administration. In 2013, 1,193 people were injured or killed at railroad grade crossings. That is an increase of 1.5 percent from 1,175 in 2012.
The new See Tracks? Think Train! campaign includes public service announcements that reinforce the deadly risks of matching yourself or a vehicle up against a train or a light rail vehicle.
The announcements will be supplemented with ongoing education efforts from Operation Lifesaver's 50-state network of volunteers who work with the public though events at schools, with law enforcement, first responders, professional drivers and community organizations.
At Metro transit, we have five Operation Lifesaver presenters in our safety department who go out into the community to raise awareness and educate children and residents about why they should never play or walk down railroad tracks, drive around the gates, or cross the tracks except at designated crossings. Many people don't realize that MetroLink trains run quieter than freight trains so it is a lot harder to hear them coming especially if you are wearing ear buds or headphones.
Below is a 30 second public service announcement from the See Tracks? Think Train! campaign.
Return to Blog
Categories:
Safety