October 18, 2010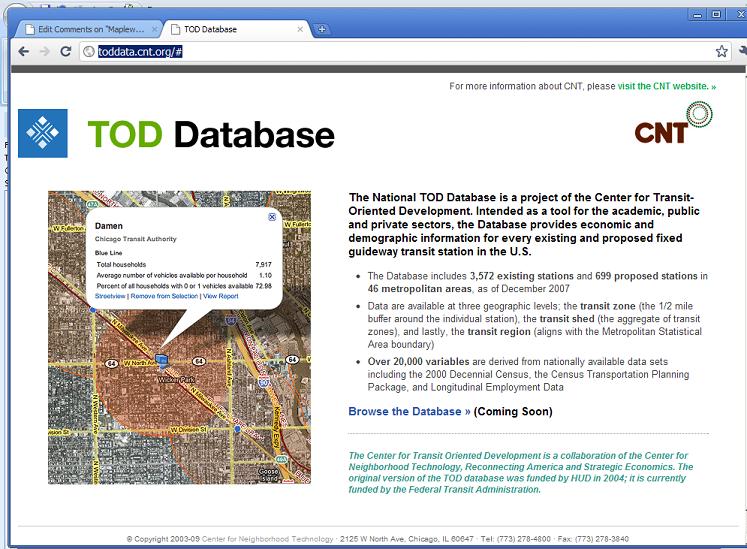 The Center for Transit Oriented Development (CTOD) launched its web database today to help developers, city officials, and investors make better planning decisions and take advantage of development opportunities around transit centers.
According to the CTOD, the database:
…Provides information on density, demographics, occupation and transportation habits of households near 4,160 existing and proposed fixed-guideway transit stations, including commuter rail, streetcars, light rail, bus rapid transit and ferries….the database synthesizes 40,000 data fields at half mile and quarter mile buffers around fixed rail stations to create a user-friendly web site that allows people to view maps of various transit regions and choose data reports for stations of interest. Users can also query data by geography or demographics.
The database will allow planners and developers to better understand market demographics when proposing future transit-oriented development (TOD) projects.  TOD encourages more walkable, liveable neighborhoods, makes use of existing infrastructure, and helps reduce transportation-related pollution and greenhouse gas emissions.
The National TOD Database is the second piece of good news recently for transit-oriented development in St. Louis and around the country.  The Department of Housing and Urban Development (HUD) announced last Friday that St. Louis is among 45 recipients of the Sustainable Communities Grant Program.  The $4.69 million grant for St. Louis will allow regional planners to develop a plan for sustainable regional development.
"The Sustainable Communities Planning Grant award, and now the National TOD database, is great news for the planning process that will bring together a broad consortium of individuals and organizations all focused on ways to cooperatively make the St. Louis region more sustainable – economically, environmentally, and socially," said Metro Chief of Planning and System Development Jessica Mefford-Miller. "Here at Metro, we are looking forward to conducting Transit-Oriented Development planning as part of this grant program."
Return to Blog
Categories:
Capital Projects
,
Economic Development
,
Transit Benefits