July 22, 2014
New Metro North County Transit Center Coming in Fall 2015
Return to Blog
North St. Louis County is currently one of Metro's fastest-growing public transit markets, and today Metro and its regional partners broke ground for the new North County Transit Center. Metro successfully competed for and was awarded federal funding to plan and build a new transit center to be located in Ferguson on Pershall Road between West Florissant Avenue and New Halls Ferry Road.
Those who spoke at the groundbreaking ceremony included: John Nations, Bi-State Development Agency President & CEO; Ray Friem, Metro Chief Operating Officer for Transit Services; David Dietzel, Bi-State Development Agency Board of Commissioners Chairman; Mokhtee Ahmad from the Federal Transit Administration; Ferguson Mayor James W. Knowles III; and St. Louis County Executive Charlie Dooley. St. Louis County Councilwoman Hazel Erby and representatives from North County Inc., MoDOT, and St. Louis Community College at Florissant Valley were also among those in attendance.
The new transit center will have an indoor passenger waiting area with concessions and restrooms as well as a free Park-Ride lot. The new facility will provide faster transfers for MetroBus customers and more direct and timely commutes. Once it opens next year, we will offer direct service from the new transit center to Downtown St. Louis, North Hanley MetroLink Station, Riverview-Hall Transit Center, St. Louis Community College at Florissant Valley and other major destinations.  We expect transit demand in North St. Louis County to continue to grow, and is moving forward with providing more efficient service.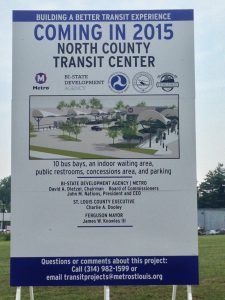 During the first phase of construction, the current building on the property (a former auto dealership) will be renovated to include the passenger waiting area which will feature digital messaging boards with MetroBus arrival times. In addition, 10 MetroBus bays will be constructed along with two Metro Call‑A‑Ride bays and the Park-Ride lot. Construction will begin this fall with the new transit center scheduled to open in fall 2015.
Service changes to MetroBus routes in North St. Louis County will occur when the new transit center opens in 2015 so we want to know what you, our customers, think the service plan for the new North County Transit Center should look like. This fall, we will hold public meetings to get your input. Stay tuned. We will announce the dates and times in the coming weeks.
The design contract for both the first phase of the project and the second phase was awarded to NCTC 2013 JV, a joint venture between STV Inc. and KAI.
Federal funding must be secured before plans for Phase II can move forward on construction of a new maintenance facility on the site that would accommodate 70 MetroBus vehicles, 25 Metro Call‑A‑Ride vans with 13 vehicle repair bays and an on-site vehicle dispatch center.
Return to Blog
Categories:
Capital Projects
,
Construction
,
Economic Development
,
Metro Lifestyle
,
Scheduling and Research
,
Transit Benefits