March 27, 2013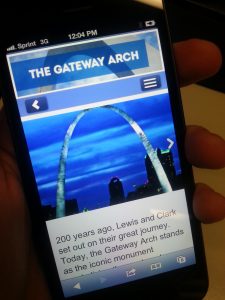 Did you know that Metro operates the Gateway Arch attractions? That's right! Not only is Metro in the transit business, but Metro is also in the tourism business. We operate the Gateway Arch tram, the Gateway Arch Riverboats, the Discovery Bike Rentals, and the Riverfront Helicopter Tours.
Planning a trip down to the Riverfront just got a little easier. Pull out your mobile device and head to GatewayArch.com's new mobile web page.
When you head to GatewayArch.com in the browser on your mobile device, you will automatically be brought to the mobile webpage. There you can get organized information on visiting the Gateway Arch, Riverboat Cruises, the Old Courthouse, Directions and Hours, News and Events and Contact information.
With one click, you can reach the customer service call center to order same day tickets.
You can buy tickets for future Arch trips and Riverboat cruises directly from your mobile device, as well.
You can also use the 'Find Us' button to locate the Arch using Google Maps.
Not only is the mobile website easy to use, but it is also quick to load.
You can choose to turn off the mobile theme if you like at the bottom of the page.
** This is a mobile web page made specifically for our official Metro blog.**
Return to Blog