May 1, 2013
New Off-Street Trail Unveiled Linking Clayton to University City
Return to Blog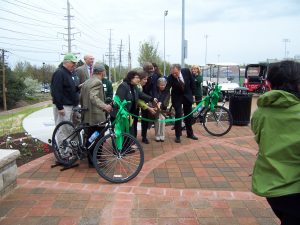 The Great Rivers Greenway (GRG) fashioned a key piece of the jigsaw puzzle that is the St. Louis regional bike trail network into place on Friday — and it fit perfectly.
The group held a party in Clayton's Shaw Park to celebrate the opening of the Centennial Greenway Trail, a two-mile asphalt trail that runs from Shaw Park in downtown Clayton to Olive Blvd. The off-street trail runs along a now defunct railroad corridor adjacent to I-170 that is owned by Metro. Metro partnered with the GRG to help turn its vision into a reality.
"I want to thank Metro. This trail simply couldn't have been possible without Metro's help and generosity," said Robert Epstein, President of GRG's board of directors.
The ribbon-cutting was held on Arbor Day – April 26 – and the GRG dedicated four trees at the trailhead, symbolizing the four municipalities touched by the trail: Clayton, Ladue, University City, and Olivette. The mayors of all four towns spoke at the event along with St. Louis County Executive Charlie Dooley and others.
For cyclists and pedestrians used to coping with the area's heavy car traffic, the new trail provides a safer link between University City and Clayton. It features easy access points to some of St. Louis County's most popular neighborhoods, companies, business districts, and parks, including Brown Shoe, Enterprise, the Ladue shopping district, the Downtown Clayton business district, the I-170 Delmar business district, Clayton High School, and the Clayton Community Center. The trailhead in Shaw Park is also a mere half mile from the Clayton MetroLink Station, which cyclists and pedestrians can use to explore the region at large.
The GRG's 2013 Bike St. Louis map  features the impressive greenway network the GRG has been working on since forming in 2000, as well as nearby MetroLink stations, Metro's transit centers, and a 'Bikes in Transit' guide with a tutorial on loading a bike onto a MetroBus bike carrier.

Click here to view more picture.
Upcoming bike-related events:
GRG Social Media Club St. Louis and CityInAJar.com joint Happy Hour to kick off National Bike Month
Wednesday, May 1, 6 p.m. – 9 p.m. at the Handle Bar, 4127 Manchester Ave.
Tuesday, May 17, various locations
Citizens for Modern Transit's Great Race II: Downtown to Clayton 
Thursday, May 30, 4:30 p.m., Post Office Plaza located (815 Locust St.) to Fortel's Pizza Den (7359 Forsyth Blvd.)
Return to Blog