June 19, 2014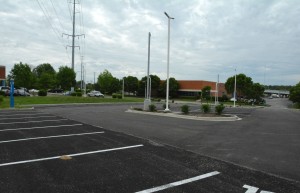 A new Metro Park-Ride lot is now open at the Sunnen MetroLink Station.
The 96-space parking lot is located east of and adjacent to the Sunnen MetroLink Station at 21 Sunnen Drive in the heart of the City of Maplewood.
This Blue Line station is very convenient for commuters coming to the Sunnen Business Park. The surrounding business district hosts a variety of major businesses, as well as specialty retail businesses, graphic arts related businesses, antique shops, art galleries and other service businesses.
Daily parking is free for Metro transit riders but there are no long-term parking options available at this particular location.
The City of Maplewood owns the property and worked with Berra Construction to build the new Park-Ride lot. Metro entered into an agreement with the city to provide and maintain surveillance and signage.
Metro has a total of 21 free Park-Ride lots located at MetroLink Stations in Missouri and Illinois . To find a Park-Ride location near you, click here.
Return to Blog