May 22, 2014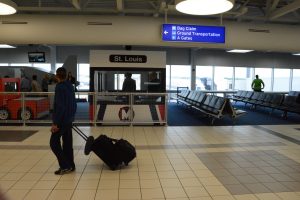 A new children's play area with a transportation theme opened to the public this morning at Lambert-St. Louis International Airport.
The Magic House's new children's exhibit called the St. Louis International Play Port, is located on the Concourse C. The special area for children to burn off energy while they wait with their families before boarding their planes includes many interactive features, including a MetroLink train with real train seats as well as fun buttons and switches that light up when pressed.
The 15,000-square foot exhibit includes a scaled down plane, a MetroLink train and several automobiles. There is also a miniature control tower with a slide, a security checkpoint and an Enterprise car rental kiosk.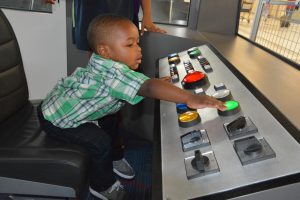 The Play Port is an idea generated through RallySTL.org, a crowdfunding website, made possible by contributions from major donors in the community.
The Play Port partners and donors include Enterprise Rent-A-Car, Carr Lane Manufacturing, the St. Louis Convention & Visitors Commission, Jane and David Peacock and Bi-State Development Agency/Metro.
Metro transit operates two MetroLink stations at Lambert-St. Louis International Airport — one at each terminal.
MetroLink is a convenient and inexpensive way for visitors and business travelers to get from the airport to Clayton, Downtown St. Louis, Scott Air Force Base, and other destinations on the Red and Blue Lines.  St. Louis area residents also take MetroLink to go to the airport and to avoid parking fees. Some workers for the TSA, airport restaurants and shops, take MetroLink every day to work at the airport.

Created with Admarket's flickrSLiDR.
Return to Blog