November 14, 2012
New Public Art Dedicated at the Wellston MetroLink Station
Return to Blog
Birds, clocks and a friendly squirrel officially have made their home at the Wellston MetroLink Station. Don't worry, these guys aren't there bother you, rather to keep you company.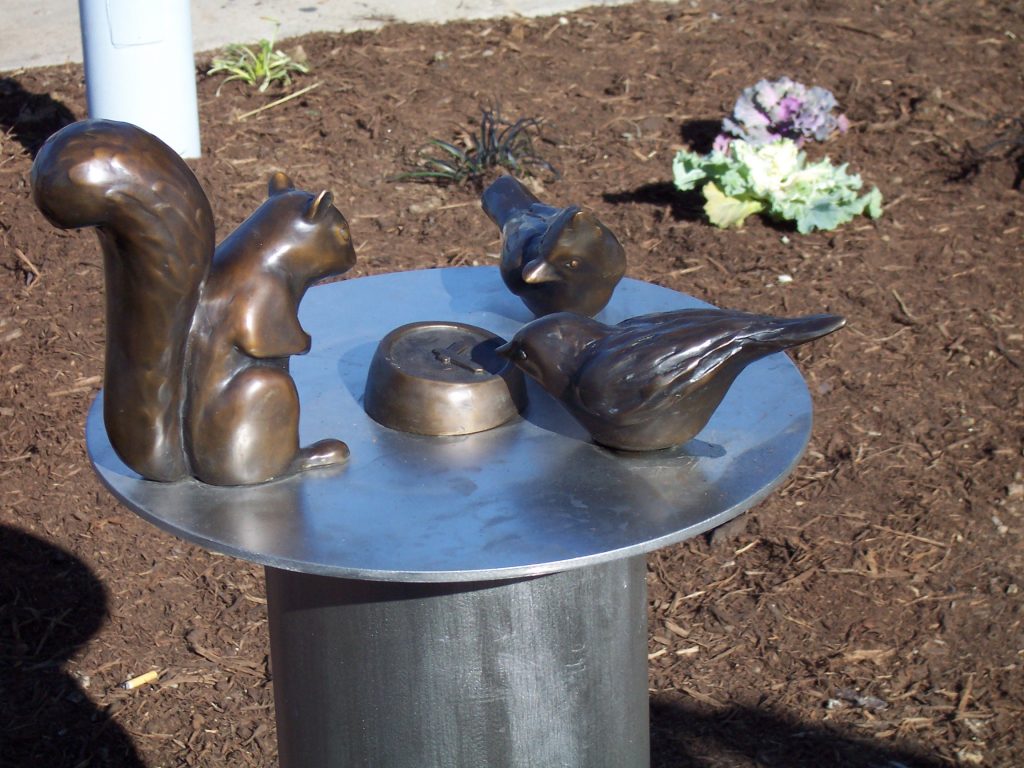 The set of bronze sculptures was added to the Wellston MetroLink Station as part of Metro Transit's promise to upgrade the oldest parts of the MetroLink system through the Arts in Transit Program. Ten new art works are set to be installed across the Metro system over the next several years.
This morning, Metro President and CEO John Nations welcomed the Wellston City Administrator Jann Trigg , the artist Mary Lucking, Metro riders and Metro employees to the dedication. "Wellston is one of the communities along the MetroLink Red Line which sees residents, employees, businesses and students benefit from high quality, affordable public transit with easy access to MetroLink, MetroBus and Call‑A‑Ride services," said Nations.  "We are an important part of this community and good neighbors. Through our Arts in Transit Program, we are beautifying this environment, making this station an attractive asset to the community while enhancing the public transit experience for our customers here in Wellston. "

The new set of sculptures populates the entryway and platform canopies at the Wellston Station. Artist Mary Lucking from Phoenix took time to sit at the station and examine the animals that live there; squirrels, cardinals, bluebirds, robins, and woodpeckers.
Lucking observed how transit users are constantly looking at their watches while waiting for the train, and how differently animals experience the same space because they aren't captivated by the anticipation of things to come.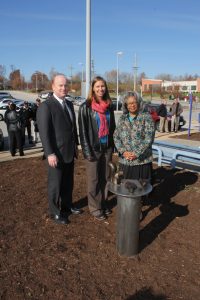 "I came out here about a year and a half ago to visit the station, and was thinking about what it was like sitting and waiting for a train," said Lucking at the unveiling Wednesday. "I was thinking about how the birds have a completely different sense of time and they are just hanging out and being with whatever happens. So, I thought it would be nice to kind of mesh those two."
She titled her sculptures "Everyone Appreciates a Punctual Train" and they are one of many works Lucking has created to help people explore and understand the environments and communities where they live.
"Mary is well-known for the work she's done that's been incorporated into urban and rural walking and biking trails, public transit stations, college campuses and neighborhood parks nationwide," said David Allen, Director of the Metro Arts in Transit Program.  "We're thrilled that one of her creations is now a focal point of one of our stations and a part of the landscape of our community."
Lucking's sculptures are the first of ten installations in Metro's Arts and Transit Program. Seven of those MetroLink projects will be funded 100 percent with federal stimulus money from the American Recovery and Reinvestment Act (ARRA). Those stations are the Stadium MetroLink Station, Wellston MetroLink Station, Union Station MetroLink Station, UMSL South MetroLink Station, CWE MetroLink Station, Arch-Laclede's Landing MetroLink Station, and Lambert-St. Louis International Airport MetroLink Station. Funding for the remaining three, Forest Park-DeBaliviere MetroLink Station, Riverview Hall MetroBus Transit Center, and the future Downtown Transit Center, will come from Federal Transit Administration (FTA) grants where 80 percent of the each project will be funded with federal money and 20 percent with local funds.

Want to check out more pictures of Wellston MetroLink Station's new sculptures? Click here.
Return to Blog