October 31, 2012
Newest Section of MetroBikeLink Trail Is Now Open in St. Clair County From Swansea Station to Belleville Memorial Hospital Station
Return to Blog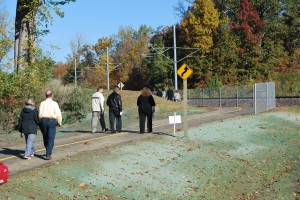 If you are looking for a new place to walk, jog, run or cycle, you may want to explore the newest section of the MetroBikeLink Trail in St. Clair County.
Earlier this month, the 2.2 mile extension to the trail was officially opened and dedicated on a beautiful crisp fall morning when the leaves were almost at the peak of their glorious fall colors. Metro President & CEO John Nations joined Executive Director of the Metro East Park and Recreation District Mike Buehlhorn (who also serves on Metro's Board of Commissioners), Federal Transit Administration (FTA) Region VII Administrator Mokhtee Ahmad, and St. Clair County Board Chairman Mark Kern, the St. Clair County Transit District and others on October 18 to celebrate the opening of the new section of trail.
The scenery is beautiful on the newest part of the trail which runs from the Swansea MetroLink Station to the Memorial Hospital MetroLink Station. The  trail which parallels the MetroLink system is now nearly seven miles long and goes from the Memorial Hospital Station to Belleville's North End Park.

The MetroBikeLink Trail connects nearby residents via MetroLink and MetroBus to the St. Louis area for work, school, medical visits, entertainment and dining out, sporting events, and recreation. MetroLink and MetroBus also serve as connectors for St. Louis area residents who work in St. Clair County, go to college there, visit family and friends, dine, shop and enjoy the trails and parks in St. Clair County.
Funding for the newest section of the MetroBikeLink Trail came from the St. Clair County Transit District, the FTA and the Metro East Park and Recreation District.
There is no extra charge to bring your bicycle on a MetroBus or MetroLink train. All MetroBus vehicles in Missouri have bike racks on the front bumpers and the majority of the buses in St. Clair County are now equipped with bike racks. The Bicycle Parking Zones on trains are located at the rear of the first car and the front and rear of the second train car. Remember, you need to stand with your bike in the open area near the door. Grab on to a rail to steady yourself. Please let other passengers deboard and board before you bring your bike onto the train and when you arrive at your stop, deboard with your bike as soon as possible as a courtesy to other passengers.
Leave your car at home and hop on your bicycle and Metro to get some exercise and explore the Bi-State area.
Return to Blog