May 17, 2012
NextStop Offers a New Look and Gratitude As We Celebrate the 500th Post
Return to Blog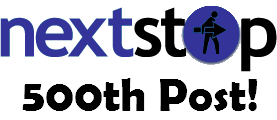 In 2009, four Metro employees from different departments: real estate, IT, government affairs and market research, got together and decided that Metro could use an agency blog. Thus began the journey of building another channel of customer engagement and a legacy of online social media for the Agency. We now celebrate the 500th post of NextStop, the official blog of Metro St. Louis, with a new look, an appreciation for what we have done, and a look toward the future.
In 2009, Metro launched NextStop as a way to talk about the role of public transit in St. Louis and what Metro does.  This robust social media effort was designed to share news, respond to customer questions and comments, and foster a dialogue with readers.We wanted to tell the story of Metro, as well as the public transit experience for thousands of riders in the region.
Since the beginning, NextStop has been an amazing experience, thanks to our readers and their comments. Highlights include getting feedback on Restoration 2010, launching the Holiday Train and Rhythm & Rails, discussing Moving Transit Forward, and introducing the Bus Stop Evaluation Program, Grand Bridge and Vandeventer Bridge construction projects, and the Mobile Market.
We were very honored to receive a nomination for Best Local Activism Blog from The Riverfront Times in 2011, to present at the American Public Transportation Association meeting in 2011, and to be recognized across the country as an example of engaging public transit communication. We consider these honors reflective of the great opportunities we have to continue to improve and reach out to our customers and community.
What are the next steps for NextStop? In addition to a new look, the blog now has better social media integration and an easier way for readers to comment. We hope to focus on producing more content, including video content. We will continue to partner with community organizations to promote affordable transportation for the bi-state area, transit-friendly development, biking and pedestrian advocacy, environmental sustainability, and accessibility for all.
This year we will give you the latest information on new bus stop sign designs, new transit centers at Grand MetroLink Station and in North County, the Eads Bridge rehabilitation project, and new technologies for bus arrival times and scheduling as well as fare collection. There are many exciting things happening for public transit in the St. Louis area, and we can't wait to tell you about them.
Thank you again for reading, commenting, sharing, talking and making this agency experiment a huge success.
Return to Blog