May 17, 2011
nineVoices.org Video: Must Bus St. Louis: Riding Buses to Engage with St. Louis
Return to Blog
Hitomi Inoue loves riding the bus.  In fact, she even held a "bus duel" with one of her friends to see who could ride the most routes.  So it is not surprising that the young St. Louisan chose buses as her topic for her KETC nineVoices video. She interviewed me and Patrick Brown of the St. Louis City Mayoral Office about why we love riding buses, and her thoughts on how riding buses is a form of civic engagement.
People have different and creative ways of encouraging people to take the bus. Some might encourage a coworker, some of us tweet and blog, and Inoue, in addition to being an avid rider herself, makes videos. It's a great community of people in St. Louis promoting transit use. Be sure to check out the great footage of St. Louis neighborhoods in the video.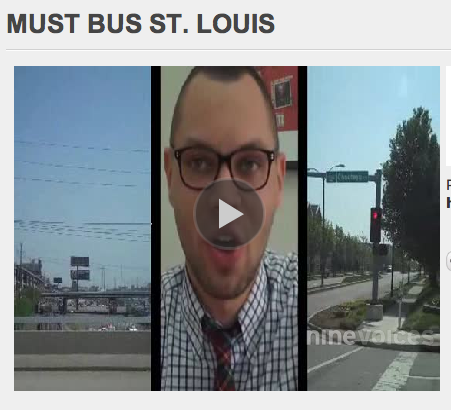 The nineVoices project encourages contributors to create videos on their thoughts on community-related issues from transportation to education to healthcare and jobs.
In her nineVoices description, Inoue writes: "Riding the bus is an easy way to be more engaged in your community and to learn about St. Louis. Court Sloger from Metro and Patrick Brown from the Mayor's Office talk about how riding the bus opens their eyes to the world outside of their bubble."
Return to Blog