May 6, 2010 |
10 Comments
North Hanley MetroLink Station Improvements
Return to Blog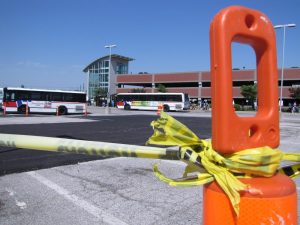 Thanks to ARRA, Metro has just started working on improvements to the North Hanley MetroLink Station. Nothing fancy, but these improvements will help the station accommodate higher frequencies of bus service, improve traffic flow, segregate bus traffic from customer vehicles, and provide a smoother ride for customers.
Of course, all time schedules are based on cooperative weather!
What Changes Will Be Made?
Reconstructing the bus road & loop to a heavier-duty and more durable concrete;
Constructing a new bus berth to accommodate more bus service to the station (currently 180 buses/day here);
Removing asphalt and resurfacing the entire customer parking lot (except the newest section that was just added last year and is still in good shape);
Repairing sidewalks, replacing curbs, storm sewer work, striping and other miscellaneous work.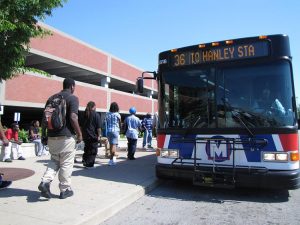 How Does This Impact Me?
When Will This Project End?
The contractor has until the end of November to complete this project. We're phasing it out over a longer period of time to ensure that the parking lot and bus loop remain as useable as possible and the work only minimally impacts our customers.
If you have any comments or questions, let us know!