September 26, 2014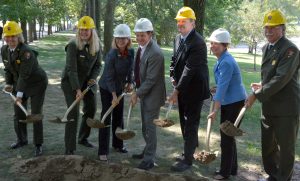 The National Park Service broke ground yesterday afternoon on the next phase of enhancements to the Jefferson National Expansion Memorial grounds.
The next phase will address the south and north sections of the park, the North Gateway, and Luther Ely Smith Square. McCarthy Castle JV I of St. Louis was awarded a $13.5 million contract to complete the ground's south side and a $13.7 million contract to complete the north grounds. The project is expected to begin by the end of 2014 and be completed by 2016.
The construction of these two projects is funded by Proposition P, which St. Louis City and St. Louis County voters passed in 2013.
Renovations to the Arch grounds include enhancing pedestrian accessibility by creating new pathways from the Gateway Arch to the Mississippi Riverfront, building sustainable ponds, replacing soil and trees and landscaping improvements. 
Construction is currently underway on several other important improvements near the Arch grounds. Construction of a CityArchRiver Park Over the Highway project began in August last year and is scheduled to be completed in summer 2015. Construction on the Central Riverfront, a component that will raise flood-prone Leonor K. Sullivan Boulevard by 2.5 feet, began in November 2013 and is scheduled to be completed by fall 2015.
As part of CityArchRiver 2015, Bi-State Development Agency is partnering with the City of St. Louis, Great Rivers Greenway and the National Parks Service to establish an enhanced bike trail between Chouteau Avenue and Biddle Street.
The Bi-State Development Agency financed the tram system in the Gateway Arch when it was constructed 50 years ago and has operated the trams since it opened to the public in 1967.
Major funding and project partners on the Central Riverfront project include the National Park Service, Bi-State Development Agency, the Federal Highway Administration, the Federal Transportation Administration, the Missouri Department of Transportation and Great Rivers Greenway.
Return to Blog