August 7, 2012
Online Survey Focuses on Planning for Future Development Around MetroLink Stations
Return to Blog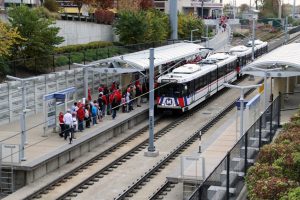 The East-West Gateway Council of Governments held several informational meetings last month to get public input on Transit-Oriented Development (TOD) around MetroLink Stations. You still have an opportunity to participate even if you could not attend one of the public meetings by taking an online survey. What East-West Gateway would like your input on which existing MetroLink Stations would be good models for future planning and development. Information collected will assist in the development of a Regional TOD Master Plan and the final plans will recommend five selected MetroLink Stations for new transit-oriented development over the short term and long term.
The deadline to take the online TOD survey and to share your feedback is Friday, August 31. You can also join others in an interactive discussion and exchange of TOD ideas on Mindmixer.  The online TOD survey is part of 12-month project coordinated by East-West Gateway. Bi-State Development Agency/Metro is one of 11 agencies partnering in the effort. The purpose of the federally funded study is to explore opportunities to create additional retail, residential housing, office, entertainment and related real estate developments oriented around the MetroLink Stations in Missouri and Illinois.
As part of Metro's contribution to the effort, staff members performed an extensive analysis of all 37 existing MetroLink stations and compiled a detailed Station Area Profile for each one.  The profiles provide a comprehensive analysis of existing conditions around each station and will serve as a baseline for future planning related to land use, development, and transportation infrastructure in close proximity to stations. They could also serve as a model for studying any future station locations.
You can follow the progress of the TOD Master Plan by visiting Metro's Transit-Oriented Development webpage, sign up for the regional plan newsletter and view or download any of the 37 station area profiles.
Return to Blog