September 21, 2011
Painting a MetroBus is a Fun Experience for Kids of All Ages & Abilities
Return to Blog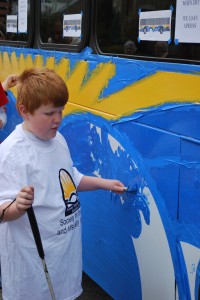 Kids just want to be kids and that is certainly true of 9-year-old Gabriel Gregson of Troy, Illinois.
Gabriel did a little painting over the weekend on a MetroBus at Shaw Park in Clayton. His mother, Sherri Gregson, said she loved to see Gabriel included in the MetroBus painting because he is a regular kid who just happens to be blind.
The youngster had a big smile on his face as he painted even though he could not see the mural he was helping to create on the side of the MetroBus. He said he knew he needed more blue paint on his brush when it would start to stick to the bus. A volunteer right beside him guided the brush into the paint cup so Gabriel could get back to work splashing color on what was a very big metal canvas.
Gabriel was among the children and adults, sighted or visually impaired, who had fun painting the MetroBus on Saturday. The event was part of the Family Festival in  celebration of the 100th anniversary of the St. Louis Society for the Blind and Visually Impaired and the 60th anniversary of The Delta Gamma Center for Children.
Click here to see the slideshow.
The mural will stay on the MetroBus for 12 months and
Gabriel said he thinks it is kind of cool that bus will be driving around St. Louis for a year. He also said it is a "cool detail" that the mural design has Braille in it. The mural was created by local designer and illustrator Steve Edwards and features in addition to Braille, gold rays of light and a blue rolling river from the Society's logo and a giant "100" to mark a century of service to the St. Louis community.
Teresa Woodard of KTVI Fox2's report on the Art Bus painting.
The bus joins the Art Bus Fleet which is part of Metro's Arts in Transit Program coordinated by David Allen. The Art Bus Fleet Program partners Metro with non-profit organizations in the community like the St. Louis Society for the Blind and Visually Impaired to help raise awareness and get their messages out.
If you would like to join in the fun, the next MetroBus painting will take place this Saturday, Sept. 24,  from noon until 2 p.m. at the Missouri Botanical Garden as part of the "Green Homes and Great Health Festival."
Return to Blog