April 30, 2013
Participate In Virtual Public Meeting on the St. Louis Rapid Transit Connector Study
Return to Blog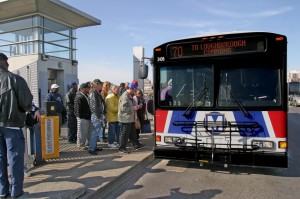 The St. Louis Rapid Transit Connector Study is now conducting a virtual public meeting to obtain your input on improvements to regional transit service.
The Connector Study – led by the Bi-State Development Agency/Metro and their partners East-West Gateway Council of Governments, MoDOT, St. Louis County and the City of St. Louis – seeks to offer efficient, competitive, and attractive transit service to more people and places in the St. Louis region. Some of the improvements to be considered are easier north-south and east-west transit connections, faster commutes, economic development opportunities, and reduced traffic congestion.

After several recent public presentations and open houses, the virtual meeting is set to run through May 13 to provide the same information and opportunities for public input, but to a wider audience using a convenient online format.
The St. Louis Rapid Transit Connector Study is direct result of Moving Transit Forward, Metro's long-range transit plan that offered several options for using the region's existing network of highways and arterial streets for providing faster, more competitive transit service. The general highway corridors identified in the long-range plan for further study are Interstates 70, 44,  64, and 55, and nearby arterial streets.
The study is using a data-driven approach to identify and evaluate potential projects.  Recommendations will be shaped by several objectives, including:
Improved access to transportation that supports economic growth
Expansion of access to economic and other opportunities
Enhanced employer access to a broader and more diverse labor pool
Reduction of congestion and air pollution
Financial feasibility
Feedback is critically important to the study and we want to hear from as many people as possible.
Please send your comments via our on-line public meeting comment form to let the study team know what you think about the study so far.
Return to Blog
Categories:
Capital Projects