June 18, 2014
Thousands of customers depend on Metro transit every day to get to work, to school and other important destinations. Today's "Passenger Profile"  features Aaron. We're interested in your transit story too. Email me at [email protected] and we may share your story in a future blog.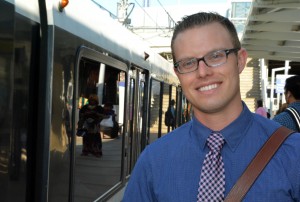 It happened one day in February. Aaron was waiting in line to get his license plates renewed and realized how much money he was spending just to keep his car on the road. Rather than spend a few thousand dollars to keep it running, Aaron decided at that moment to dump the pump.
"I said to myself, 'I don't need a car. I don't use it anymore,'" he said.
In addition to paying for registration, Aaron was also paying to park on the street, for car insurance and between $30 to $40 in gas a week.
"In all honesty, getting rid of my car has been a weight off my shoulders," he said. "I don't have to worry about parking or about traffic. My morning and afternoon commutes are my time."
Aaron traded his car for a bike and a Metro pass, but the transition didn't happen overnight. Rather, he eased in to his new no-car lifestyle.
"I gave it a shot for a week, that week turned into a month and that month turned into nearly two years of using public transportation," he said.
His commute starts with a morning coffee at a local coffee shop near his apartment in the Central West End. He walks a few blocks to the Forest Park-DeBaliviere MetroLink Station and takes that to the Maplewood-Manchester MetroLink Station. He then boards the #57 Maplewood-Manchester MetroBus to his job at Edwards Jones in Des Peres.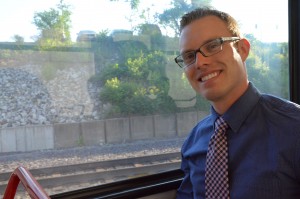 "It's a 45 minute ride," he said. "You can't beat it."
Aaron spends his time on the train going through various news apps on his phone, checking up on social media and reading books. (He's a fan of business/financial self-help leadership books). On the bus, Aaron continues reading, but has recently started opening up and meeting new people.
"At first, I was a little nervous and I'd keep to myself in the corner, but you start to loosen up and overhear stories and chime in," he said.
"There's a sense of community on the bus that you would never see elsewhere," Aaron said. He remembers a time when a woman in front of him was sniffling from allergies.
"A girl behind me on my right tapped my shoulder and presented me a box of tissues to give to the woman," he said. "It's the little things like that. Anywhere else, people would completely ignore each other, but on the bus, people actually care."
Aaron encourages his friends to take public transportation as an alternative option when deciding whether to head downtown or head to the bars in Clayton. He also uses Metro to get to the gym and to buy groceries.
"Once people realize how much they can get out of using Metro and how connected it is, they'll use it," he said.
Return to Blog