September 16, 2015
Passengers, like Adam, depend on Metro transit to get to work, school and other important destinations. We hope you enjoy his story, and we're interested in your transit story too. Email [email protected], and we may share your story in a future "Passenger Profile."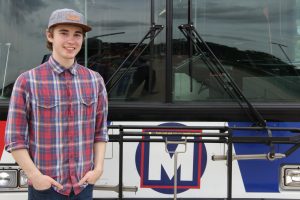 Adam is able to take care of nearly all of his weekly tasks with the #56 Kirkwood-Webster MetroBus route.
"I really only ride one bus line every day," he said.
Adam primarily uses Metro to get from Kirkwood to Webster University. His commute lasts about 20-25 minutes, which is usually enough time to fit in some last-minute studying before an exam.
"It's not a long walk from my house," he said. "It's pretty easy and convenient."
Since Adam is a student at Webster University, choosing Metro is also cost effective. Adam is eligible to participate in the U-Pass program. This is the fourth year Webster University and Metro transit have partnered together to allow students, faculty and staff to receive Metro U-Passes at no cost.
At first, Adam used his U-Pass just to get him to school. But the more he rode MetroBus, the more it became part of his everyday routine for other errands and trips around town.
"All I had to do was get on board," he said. "I don't have to worry about parking or needing a car everywhere I go."
Granted, Adam did have to do a bit of planning before boarding the bus for the first time.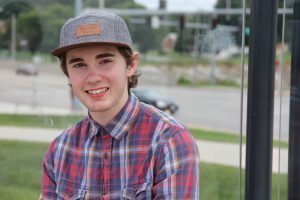 "Make sure you learn the bus times," he said. "I grabbed a bus schedule and put it on the fridge."
After a while, Adam started noticing the same crowd on his bus route.
"There are students going to the St. Louis Community College Meramec Campus and even a few people from my class at Webster," he said. "You meet people and connect with them in a place you'd otherwise never meet."
In addition to friendly conversation, Adam said Metro also provides the flexibility to be more productive while on the go. It's also a greener option.
"It doesn't make sense if 15 people are driving separate cars to the same location," he said. "What does make sense is to carpool or take the bus. It's better on the environment."
Adam encourages those interested in riding public transit, or who have thought about giving it a try, to actually go out and do it.
"You have to have the right mind set," he said. "If you're open to it and let it be a part of your routine, over time it'll become natural."
Return to Blog