November 11, 2015
Passengers, like Alex, depend on Metro transit to get to work, school and other important destinations. We hope you enjoy his story, and we're interested in your transit story too. Email [email protected], and we may share your story in a future "Passenger Profile."
In a few weeks, Alex will be putting his new commute into action. His job is moving from downtown St. Louis to Clayton.
"Currently, I walk to work," Alex said. "However, come December, I'll use MetroLink."
While Alex has used MetroLink before to visit friends and attend St. Louis Blues and St. Louis Cardinals games, this will be his first time using MetroLink on a regular basis. To get to his job's new location, Alex will board a Blue Line MetroLink train at the Convention Center MetroLink Station and ride the train to the Clayton MetroLink Station.
His work commute will take less than 30 minutes. In that time, Alex plans to listen to music and browse through his Twitter feed.
Alex said the convenience of MetroLink is a stress reliever, particularly when it comes to attending large-scale events downtown.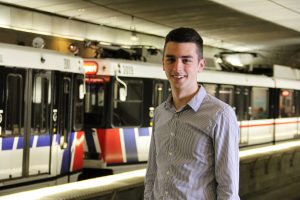 "Before living here, I didn't bother driving downtown for events," Alex said.
Luckily for Alex, his employer plans to pick up the transit tab and pay for his Metro pass. That'll leave him with one big decision to make – what to do about his car.
Alex said he plans to leave his car at his parent's house and see how the no-car lifestyle feels before giving up the car completely. He said he is currently paying more for car insurance than for gasoline. But Alex chooses to ride Metro for reasons beyond saving money.
"I believe walkable cities are beneficial for everyone – commuters and pedestrians – than car-centric cities," Alex said. "That's why we should consider public transportation a priority when we move or are looking for a new home."
Return to Blog