July 9, 2014
Thousands of customers depend on Metro transit every day to get to work, to school and other important destinations. Today's "Passenger Profile"  features Alex. We're interested in your transit story too. Email me at [email protected] and we may share your story in a future blog.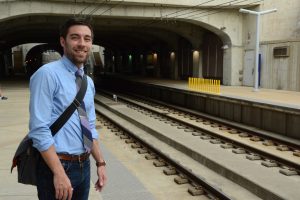 When Alex moved back to St. Louis in March after living in Chicago for several years, he discovered his love of public transportation was getting even stronger.
Alex decided to maintain the no-car routine he started in Chicago. From University City, Alex walks a half mile to the Forsyth MetroLink Station. He rides the train downtown to the 8th and Pine Station.
If it's especially nice outside, Alex gets off at the Stadium Station. After grabbing his morning Kaldi's coffee at Culinaria, he walks a few more blocks to his office. Alex said his weekday commute takes between 30 minutes to 35 minutes.
While on the train, Alex reads USA Today and Buzzfeed on his phone and enjoys looking out the window.
"It's easy to forget how beautiful St. Louis is," he said. "It's nice to put the phone down and take it all in every once and a while."
Alex has turned into quite the ambassador for public transit now that he's back on his home turf. He tells his friends and family about the benefits of using Metro transit services.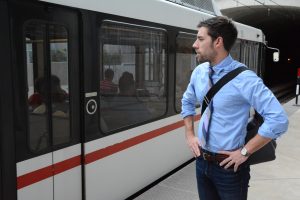 "There is no reason why anybody shouldn't take public transit if you can make it work," he said. "It's part of embracing urban living, not to mention I'm saving money and it's a smart environmental decision."
In addition to commuting to and from work, Alex also uses MetroLink to get to the airport and to attend events downtown, like the Go! St. Louis Marathon.
Alex recently enjoyed riding MetroLink when the St. Louis Blues were still in the playoffs. He enjoyed the team spirit on the train and the friendly back and forth between Blues and Blackhawks fans. He also enjoyed the packed train cars when the St. Louis FIRST robotics competition was in town.
Alex suggests anyone thinking about trying public transportation to get rid of any preconceived notions about what public transportation is and get on MetroLink to experience it for yourself.
"Give it a chance! Realize all the good things public transportation can do," he said.
Return to Blog