August 6, 2014
Thousands of customers depend on Metro transit every day to get to work, to school and other important destinations. Today, Anne's story is our featured "Passenger Profile."  We're interested in your transit story too. Email me at [email protected] and we may share your story in a future blog.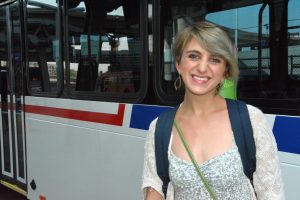 Last week, Anne gave MetroBus a try for the first time and she's already a fan.
"The bus was on time. It was very pleasant, very clean," she said. "I had a very friendly driver who welcomed me on my first ride, which was nice. I think it went very well."
Anne plugged her new address in the Tower Grove neighborhood into our Trip Planner tool online. The tool provided her the most convenient bus route for her commute. That bus route turned out to be the #8 Bates-Morganford.
Now, she takes the bus to the Civic Center Transit Center in Downtown St. Louis. From there, it is a 10 minute walk to work.
Before moving to her new home, Anne used to walk to the Forest-Park DeBaliviere MetroLink Station and ride the train to the Union Station MetroLink Station. She said using public transportation has allowed her to discover the "underbelly" of the city and to see it in "a whole new perspective."
"I love watching people," she said. "I look around at those riding the train and wonder where they're going."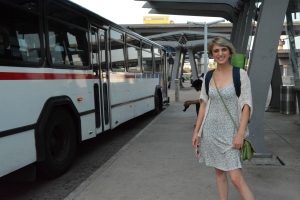 She also enjoys listening to music or gazing out the window during her commutes. One day, the train passed by a building that looked like an old donut flour factory.
"I did a little bit of research on the building," she said. "It had an interesting history."
Anne enjoys how public transit provides a certain community feel to her lifestyle.
If you are new to public transit or are thinking about giving it a try, Anne recommends that you try a dress rehearsal before you put your public transit commute into motion.
"Try the route and get comfortable with it," she said. "It's a worry-free method of transportation."
Return to Blog