May 20, 2015
Customers, like Antonio, depend on Metro transit every day to get to work, school and other important destinations. We hope you enjoy his story, and we're interested in your transit story too. Email [email protected], and we may share your story in a future "Passenger Profile" blog.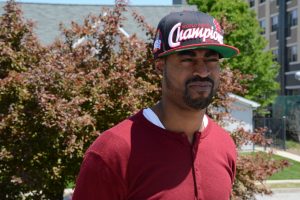 Antonio has been riding Metro for 26 years, and it's been his preferred transportation option for as long as he can remember.
That's why it's no surprise that Antonio is an expert at combining MetroLink, MetroBus and Madison County Transit (MCT) buses to get him to where he needs to go anywhere in the region.
His normal commute starts by boarding a #5 Tri-City Regional Madison County Transit bus from Granite City and taking it to the Emerson Park MetroLink Station. From there, he takes MetroLink and MetroBus to visit friends in Missouri or to take care of errands. Antonio also uses MCT to get to his job in Pontoon Beach, Ill., where he works at a local warehouse.
To help save money, Antonio purchases a monthly Metro pass so he can take unlimited rides on our trains and buses.
What he enjoys most about riding Metro transit?
"It's perfect for meeting new people," Antonio said.
Return to Blog