September 30, 2015
Passengers, like Ashley and Jude, depend on Metro transit to get to work, school and other important destinations. We hope you enjoy their story, and we're interested in your transit story too. Email [email protected], and we may share your story in a future "Passenger Profile."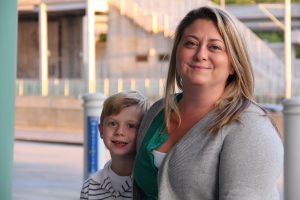 While she may only use MetroLink a few times a year, Ashley turns each train ride into an adventure for her six-year-old son Jude.
"Anytime we pass a MetroLink train, he shouts from the car, 'Mom, look it's the train,'" Ashley said.
His love affair with trains started when he was about two years old and hasn't stopped since, Ashley said. In fact, if they're ever near a MetroLink station they hop on and ride, even if the journey is just a few stops.
"We'll buy a two-hour pass and we'll go to different places around the St. Louis region, like to Forest Park and Brentwood," she said. "Maybe we'll go shopping or grab a bite to eat."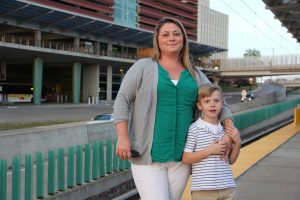 Ashley also uses MetroLink to attend Cardinals games and Blues games downtown. To get to the game, she usually parks her car downtown and catches the train at the Convention Center MetroLink Station.
"For a six-year-old, it's a little bit of a hike when walking to the game," she said. "Riding MetroLink is fun, it's easy, accessible and affordable. It's also part of being in the city."
In addition to using MetroLink to attend games downtown, Ashley also used Metro recently to get to LouFest. Ashley won the Ultimate LouFest Giveaway, a Metro promotion that provided a VIP experience to LouFest for two lucky fans. The prize included two 2-day LouFest VIP passes, a 2-night deluxe stay at the Drury Inn & Suites and free all-inclusive Metro Adventure Passes that provided unlimited rides on MetroLink, MetroBus and the Forest Park Trolley.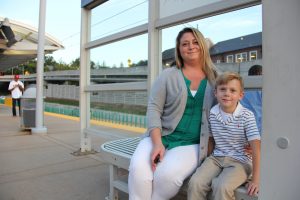 While Ashley knows how to ride MetroLink, she did have to go through a bit of trial and error before understanding the MetroLink system completely. But she quickly got the hang of it, and now anytime Jude wants to ride the rails, Ashley is ready to go. That's good for Jude, because for him, trains are a big deal.
"He gets a kick out of riding the train," Ashley said. "I don't know why. Trains are life for him."
Return to Blog