April 29, 2014
Thousands of customers depend on Metro transit every day to get to work, to school and other important destinations. We are going to share some of their transit stories as part of a new feature called "Passenger Profile."  We're interested in your transit story too. Email me at [email protected] and we may share your story in a future blog.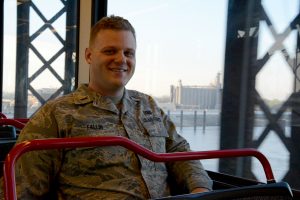 It's not hard to find Austin on a crowded MetroLink train or on a MetroBus vehicle. That's because he wears a full military uniform to work every day.
Austin is a first lieutenant working public affairs for the 618th Air and Space Operations Center at Scott Air Force Base. The center controls airlift, aerial refueling and aeromedical evacuation missions around the world.
His military uniform is the perfect conversation starter, especially among high school and college students.
"It's great to be in a position where they can ask questions candidly and I can share my experiences and perspective on the pros and cons of military life," he said. "Also, when little kids show gratitude for military service members by coming up to me to say 'thank you,' well, that's really special."
Austin said a lot of people he talks to are very interested to find out that the Air and Space Operations Center at Scott Air Force Base controls about 600 flights around the world every day for missions like disaster relief, humanitarian aid and transporting military personnel to the fight.
To get to work, Austin walks four blocks from his downtown loft to the Convention Center MetroLink Station. From doorstep to doorstep, Austin said it takes about an hour.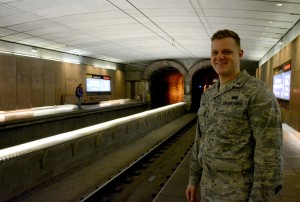 Austin started riding MetroLink the first week he moved to St. Louis in October 2012. When he was searching for a place live, access to public transportation was high on his priority list.
"I actually factored MetroLink station locations into my decision to choose the loft I did," he said. "I knew I wanted the convenience of taking the train to work and wanted to make sure I was within walking distance."
Another reason Austin uses public transportation is for the worry-free element. He doesn't have to worry about possibly getting a speeding ticket or driving in bad weather, road construction delays, distracted drivers or even getting stuck in traffic and being late for work.
"Not having to worry about any of that stuff frees me up to enjoy my mornings and afternoons walking to the station, reading a good book on the train or catching up with friends and family on the phone," he said.
Since Austin is a Scott Air Force Base employee, he is eligible to take advantage of the Department of Defense's Mass Transportation Benefit Program, which helps offset transportation costs to and from work.
Austin advises new riders to take a deep breath and give public transit a try.
"As someone who moved to St. Louis with very little experience with public transit," he said, "I was pretty surprised at how simple the process was."
Return to Blog