June 3, 2014
Thousands of customers depend on Metro transit every day to get to work, to school and other important destinations. Today's "Passenger Profile"  focuses on Bill. We're interested in your transit story too. Email me at [email protected] and we may share your story in a future blog.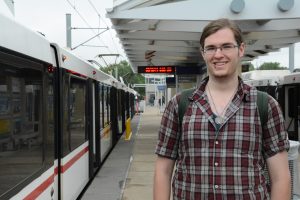 While Bill enjoys people watching on MetroBus and MetroLink, he's more interested in talking to other passengers ─ in French.
Bill is studying French at Webster University and enjoys bringing what he learns in the classroom on board Metro transit.
"The times I've had conversations with French-speaking riders are the most memorable for me," Bill said. "It's interesting to speak in their native tongue."
When he's not striking up a conversation in French, Bill enjoys the stress-free environment Metro provides.
"If I am not watching people, I'm lost in my own thoughts," he said. "It's perfect for taking time for yourself. It's a nice break in your day."
Last fall, Bill commuted four hours from Hazelwood to Webster Groves. He boarded the #44 Hazelwood to the North Hanley MetroLink Station, transferred at the Forest Park-DeBaliviere Station, and took the #56 Kirkwood-Webster to the Shrewsbury-Lansdowne I-44 Station.
He now lives a little closer to campus and takes the #21 Watson to the Shrewsbury-Lansdowne I-44 Station and takes the #56 Kirkwood-Webster to class at Webster University.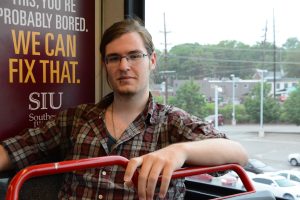 Bill started riding Metro on Thanksgiving Day 2012. He never got around to learning how to drive and has never owned a car, but that hasn't stopped him from being active in his community.
"You don't need someone to teach you how to use Metro," he said.
For the past year, taking Metro has enabled Bill to go to college, to pursue a French major and to attend many St. Louis events. He's also used Metro to visit friends, have occasional picnics at Forest Park and attend doctor's appointments.
Bill's advice to those new to Metro? Don't be afraid to ask for help.
"There's this weird sense of community," he said. "We're all in the same sort of situation, getting from one place to the next. It's okay not to know all the answers before you step on the train or bus."
Return to Blog