August 13, 2014
Thousands of customers depend on Metro transit every day to get to work, to school and other important destinations. Today's "Passenger Profile"  features Bob. We're interested in your transit story too. Email me at [email protected] and we may share your story in a future blog.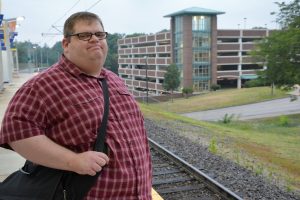 Bob looks forward to his relaxation time during his commute to the University of Missouri – St. Louis campus. He's able to listen to Podcasts and read books in a worry-free environment.
"It's given me the opportunity to sit back and let someone else do the driving," he said.
He also chooses Metro transit when it comes to tackling a few errands. His route changes day-to-day depending on what errands he has to accomplish.  For example, after he drops off his car for an oil change, Bob boards the #70 Grand. If he has to stop by the pharmacy after work, Bob boards a MetroLink train at the Shrewsbury-Lansdowne I-44 MetroLink Station. He also uses the Grand MetroLink Station and the #73 Carondelet for errands.
"I enjoy traveling new routes," he said. "It's fun to see different parts of the city."
Bob started using Metro transit in 2006 when the Cross County MetroLink Extension opened. He said it was pure curiosity that got him on board a MetroLink train. Since then, his reasons for using public transportation have grown. Bob has been able to save a good chunk of change.
"I've done the math," Bob said. "I've saved probably $60 to $80 per month using public transportation."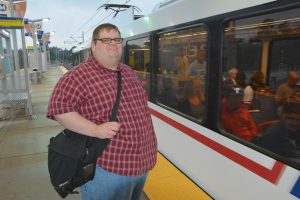 In addition to saving money, he is able to extend the life span of his vehicle by taking Metro.
"I don't have to change my tires or oil as often," he said. "I also use less fuel."
It's not just about driving his car less and saving money in the process. Bob is also trying to live a greener lifestyle. At home, Bob has installed high-efficiency windows, an energy-efficient furnace and a new roof.
While on MetroLink or MetroBus, Bob said he appreciates the little things. For example, he appreciates how a bus or train operator will wait a few extra seconds for a passenger to board.
"They could easily close the doors, but they stay an extra five to 10 seconds," he said. "It really keeps a person from having a bad day."
Return to Blog