August 31, 2016
Passengers, like Brian, depend on Metro transit to get to work, school and other important destinations. We hope you enjoy his story, and we're interested in your transit story too. Email [email protected], and we may share your story in a future "Passenger Profile."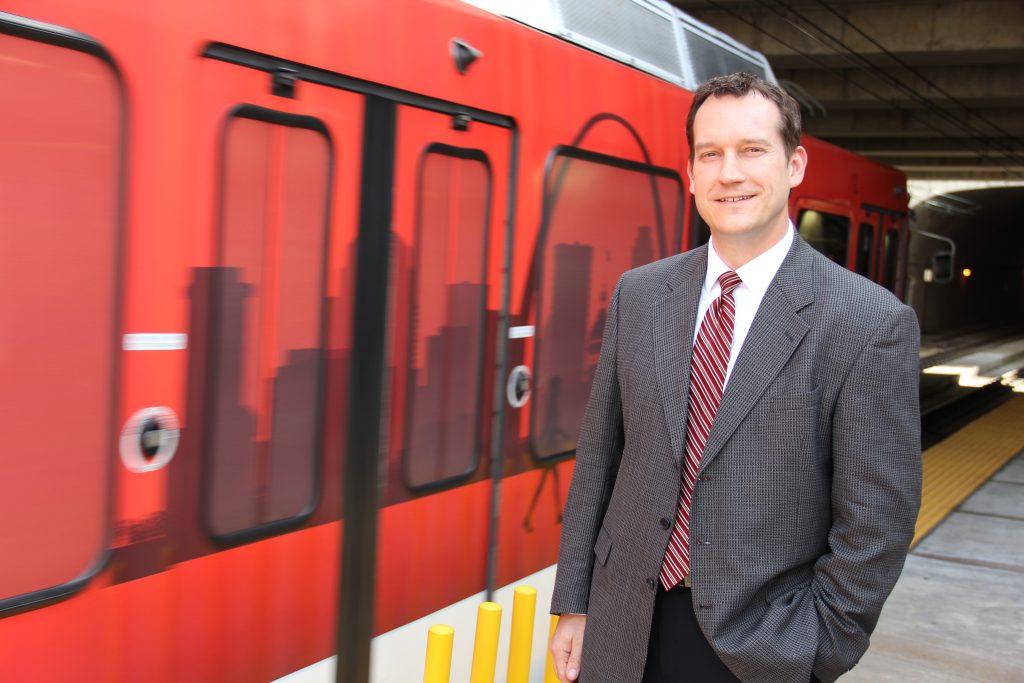 Brian has a regular morning ritual on his way into work each day. It starts with him leaving his house near Kayak's Café and putting his ear buds in to listen to one of his favorite podcasts. Then it's just a short walk to the Skinker MetroLink Station where he boards a westbound MetroLink train to work.
While listening to his podcast, Brian travels westbound past Washington University's Danforth Campus to the Forsyth MetroLink Station where the university has its West Campus. It's here that Brian exits the train, his podcast ends and the work day begins.
Brian is the Assistant Vice Chancellor of Alumni and Development at Washington University, and he has relied on Metro to get him to and from work for two years now. He decided to come on board and take advantage of one of the university's perks – a free transit pass.
In addition to using MetroLink, Brian also uses MetroBus — specifically the #1 Gold, #2 Red and Green Line routes — to get him around the Danforth Campus for meetings and to areas surrounding the university. Brian also uses the train to attend Cardinals games or to grab a bite to eat downtown.
"I probably can get rid of my car," he said. "I haven't taken the leap yet."
In addition to several Metro transit options, Washington University also provides Enterprise CarShare services. For those who are new to the region, Brian said having multiple public transportation options in and around campus allows students to explore St. Louis and all it has to offer.
"We try our best to expose students to the entire St. Louis region and being near public transportation allows us to do just that," he said.
Metro transit also supports the university's sustainability efforts.
"From an environmental standpoint, it saves on our carbon footprint," he said. "It's one less car on the road."
Return to Blog