September 15, 2021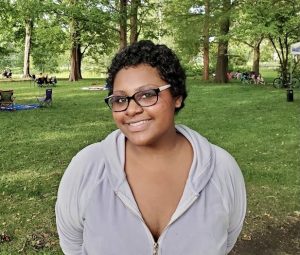 Callie has been riding Metro for about four years.
She is a tarot card reader and uses Metro to travel around the area and set up readings for customers. Recently, because of the pandemic, most of her work is done online.
Callie's favorite routes are the #70 Grand, #97 Delmar and #73 Carondelet, and she also likes to use MetroLink to get around.
Check out our Q&A below to learn a little more about Callie.
---
What do you like most about Metro?
It's very reliable, even when the buses may not be on time, I can check their status through the Transit app. The buses are very efficient and they take you to almost anywhere in St. Louis.
What places do you use Metro to travel to?
I use Metro to go see family members and friends and to go to work as well.
What is your dream vacation?
Tokyo, Japan. I loved watching the recent Olympics!
---
Like Callie, many riders use the Transit app to plan their trip, track their ride, and pay their fare. Download the Transit app before your next Metro trip! Learn more here: metrostlouis.org/transit-toolbox
Passengers like Callie rely on Metro Transit to get to work, school and other important destinations. We want to hear your transit story. Email us and we may share your story in a future Passenger Profile.
Return to Blog
Categories:
Metro Lifestyle