July 22, 2015
Passengers, like Charaell, depend on Metro transit to get to work, school and other important destinations. We hope you enjoy her story, and we're interested in your transit story too. Email [email protected], and we may share your story in a future "Passenger Profile" blog.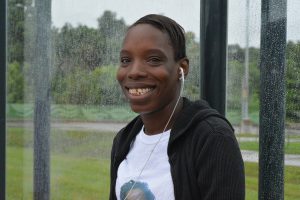 It's easy to figure out how long Charaell has been using Metro to get around town.
"I'm 36 years old, so 36 years," she said. "I've been using Metro all my life."
Charaell's mother taught her a little bit about how to use MetroBus when she was young, but she became an expert at using Metro transit by regularly riding the buses all by herself.
"My mom had two jobs, so I learned how to venture out on my own," she said.
Through the years, Charaell has depended on Metro to help her raise her family, get to doctors' appointments, pick up groceries and travel to work.
During the week, Charaell catches the #11 Chippewa and rides the bus to the Shrewsbury-Lansdowne I-44 Transit Center. From there, she'll catch the #210 Fenton-Gravois Bluffs to Fenton where she works. Her work commute takes about an hour and 45 minutes, and to fill the time, Charaell enjoys listening to the radio, reading a book or taking a nap.
Charaell also enjoys having a bus stop not too far from her house, as well as the cost-saving benefits of riding Metro.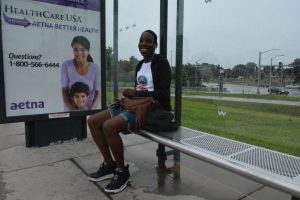 "My 19-year-old has a car and it seems she needs to pay something for it every two weeks," she said. "I can get a bus pass for cheaper than that."
As for learning the in's and out's of navigating MetroBus and all of the routes, maps and schedules, Charaell has it covered.
"It's not hard catching the bus as long as you know where you're going," she said.
Return to Blog