May 28, 2014
Thousands of customers depend on Metro transit every day to get to work, to school and other important destinations. Today's "Passenger Profile"  features Chris. We're interested in your transit story too. Email me at [email protected] and we may share your story in a future blog.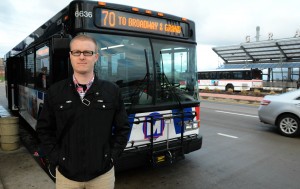 Chris is new to St. Louis. Instead of flipping through travel brochures or scanning the Internet for articles about the Gateway City, he let us roll out the welcome mat for him.
Chris moved here from Louisville, Kentucky to work for ShipWorks in Downtown St. Louis. Before making the move, he compared his options. Take public transportation or pay to park downtown? He chose Metro.
In addition to saving money on gas (he saves about $80 a month), Chris chose Metro for its environmentally-friendly factor. Plus, he's able to see more of the city and its people by taking public transportation.
"You start to notice a few of the same people," he said. "You kind of create your own cast of Metro characters that you start to recognize."
One of those characters is a lady who Chris sees almost every evening. She's very well-dressed and looks like a grandmother who may still be working, he said.
"She would have some great stories to tell," he said. "I'd want to get to know her."
Another character Chris recalls is a man who seems to always be in a hurry, and is always busy on his phone.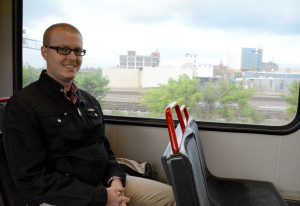 "I get the sense he's very socially involved," he said. We've exchanged greetings a few times."
Chris lives in the Shaw neighborhood and rides the #70 Grand every weekday to the Grand MetroLink Station. From there, he takes the train to the Stadium Station and walks a few blocks to his office. His total commute takes about 40 minutes, he said.
On the weekends, Chris uses his car to "stretch its legs." However, he has used Metro on the weekends for Cardinals games, to attend parades and festivals and to get to Forest Park.
The experience of riding the #70 Grand has given Chris an interesting perspective of the city. Chris said the bus ride has confirmed the city's strong allegiance to sports, strong love of Forest Park and civic opportunities.
"The bus ride provides a stronger sense of culture," he said. "It's interesting to be immersed in that."
Return to Blog