October 8, 2014
Thousands of customers depend on Metro transit every day to get to work, to school and other important destinations. Today's "Passenger Profile"  features Christine. We're interested in your transit story too. Email me at [email protected] and we may share your story in a future blog.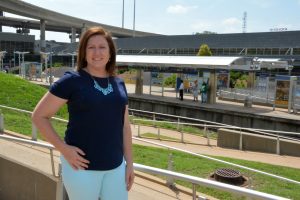 A couple of months ago, Christine experienced her first MetroBus ride and it turns out, it wasn't as difficult to navigate as she thought.
Christine who is the 6th Ward Alderwoman for the City of St. Louis, started using the bus to get to evening meetings and to meet up with friends. In addition to MetroBus, Christine also uses MetroLink to travel to and from Lambert-St. Louis International Airport.
There are several reasons why Christine decided to give the bus a try. Currently, there are three drivers in her household, but only two cars. To allow her teenage daughter to use the car, Christine decided to take Metro. She also started using the bus as a way to better connect with her constituents, many of whom use MetroBus as their primary mode of transportation.
"I don't want to buy more cars," she said. "Instead, we'll figure out how to use the public transportation we have in place. I think that makes a lot more sense."
It also made financial and environmental sense to use all of what Metro transit offers, she said. Christine belongs to Smart Growth America's Local Leaders Council. The organization advocates for people who want to live and work in great neighborhoods by creating local jobs and protecting the environment.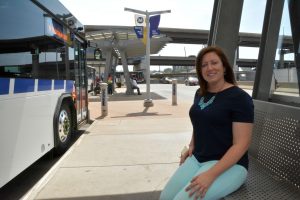 "If I'm going to talk the talk," she said, "I have to start walking the walk."
Support for public transportation is growing in the St. Louis region, especially among millennials, says Christine. This demographic is not interested in a one car per person lifestyle, rather they're looking for something different.
To cater to those needs, both the City of St. Louis and St. Louis County passed Complete Streets policies that help improve street access for bicyclists and pedestrians, Christine said.
For those thinking about using public transportation for the first time, Christine recommends visiting the Metro transit website. Also, she says double-check your trips with friends who use public transportation often ahead of time.
"Having a friend who's used Metro before, builds your confidence," she said. "Also, invite your friends to give Metro a try."
Return to Blog