December 31, 2014
Thousands of customers depend on Metro transit every day to get to work, to school and other important destinations. Today's "Passenger Profile"  features Clinton. We're interested in your transit story too. Email me at [email protected] and we may share your story in a future blog.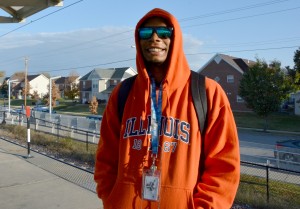 Clinton starts his morning by grabbing a quick breakfast, heading to the gym and reading a bit of scripture before getting on the bus.
His commute begins on the #5 Tri-City Regional Madison County Transit bus in Madison, Ill. He rides the bus to the Emerson Park MetroLink Station and takes the train to downtown St. Louis.
Clinton, 23, said he enjoys listening to music while on MetroLink and MetroBus vehicles. He's been using public transportation all his life.
Clinton uses Metro to visit St. Patrick's Center, a nonprofit organization that provides housing, employment and health opportunities for the homeless or those whose are at risk of becoming homeless.
"Metro is my way," he said. "It's my source of transportation."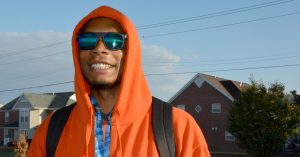 Clinton said that if he didn't have Metro as a transportation option, he'd be forced to walk, and that is something he said he can no longer handle.
"My legs have gotten too tired," he said. "That's why I've started riding the bus, and using MetroLink."
In addition to getting to and from St. Patrick's Center, Clinton also uses Metro to run errands, do a little shopping and get some fresh air and visit family.
"I like that Metro gets me where I need to go," he said.
Return to Blog