May 27, 2015
Customers, like Connor, depend on Metro transit every day to get to work, school and other important destinations. We hope you enjoy his story, and we're interested in your transit story too. Email [email protected], and we may share your story in a future "Passenger Profile" blog.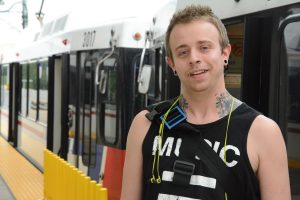 In May 2012, Connor quit cold turkey — his days of car ownership were over. That's when he started relying on MetroLink and MetroBus to get him around town.
"My lifelong friends, people I look up to, were using Metro, and I said to myself, 'If they can do it, I can too,'" Connor said.
While it's recommended commuters ease into a car-free lifestyle by researching bus lines, learning bus and train schedules and doing a few test runs, that's not Connor's style.
"I totally just winged it," he said.
With that approach, he was bound to make a few mistakes at first.
"I remember my first bus ride," he said. "I was riding the #32 ML King-Chouteau from the Grove neighborhood and I wanted to get off at a bus stop near the Maplewood MetroLink Station. I didn't realize you had to pull the line to request the bus to stop, and the bus just blew past where I needed to get off!"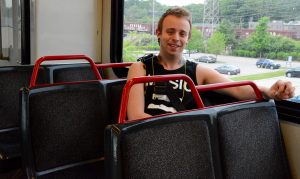 With a few years under his belt, Connor now knows his way around the Metro transit system. His usual commute starts by taking the #46 Tesson Ferry from South County to the Shrewsbury-Landsdowne I-44 MetroLink Station, and then taking the train to the Richmond Heights MetroLink Station to get to his job at the St. Louis Galleria.
On the bus and train, Connor enjoys listening to music, specifically electronica, rock and alternative tunes.
"I'm a nightclub DJ, so music is a big part of my life," he said. "Transit time is therapy time for me. I get to sink into my own head."
Metro also provides Connor with a way to dodge the financial burdens of owning a car and a means of exploring the St. Louis region.
"It's a social standard to have a car. We need a car to get to and from a job, loved ones, etc.," he said. "I think that's a silly standard. Metro offers a great opportunity to get out and experience the world from a fresh perspective."
Return to Blog