January 27, 2016
Passengers, like Curtis, depend on Metro transit to get to work, school and other important destinations. We hope you enjoy his story, and we're interested in your transit story too. Email [email protected], and we may share your story in a future "Passenger Profile."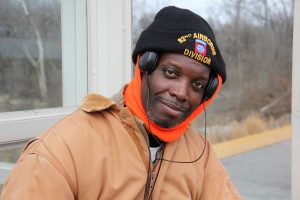 Curtis uses not one, not two, but all three transit services Metro provides – MetroLink, MetroBus and Metro Call‑A‑Ride – to get to work, to visit friends and to make appointments.
"It's really economical," he said, "and very convenient."
Curtis has been using Metro for 16 years and considers it his main mode of transportation.
His normal commute consists of boarding the #17 Carlyle Plaza-17th Street bus near his home in Belleville and riding it to the Belleville MetroLink Station.  From there, Curtis rides the train to the Fairview Heights MetroLink Station and transfers to the #12 O'Fallon-Fairview Heights bus, which gets him to work.
Curtis is a disabled veteran and is able to take advantage of Metro's reduced fare program for individuals with disabilities.
"The Metro system is designed to help veterans like myself," he said.
In addition to providing him with a reliable and clean form of public transportation, Metro has also given Curtis a path to expand his education. Last fall, Curtis began attending Southwestern Illinois College in Belleville.
"I use Metro for everything really," he said. "We're very blessed to have this transit system."
Return to Blog