January 28, 2015
Thousands of customers, like Dashanta, depend on Metro transit every day to get to work, to school and other important destinations. We hope you enjoy her story and we're interested in your transit story too. Email [email protected] and we may share your story in a future "Passenger Profile" blog.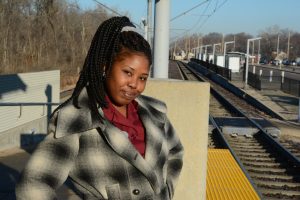 Without Metro, it would be tough for Dashanta to commute back and forth between Missouri to Illinois every day.
"It's a very important part of my life," she said.
Ever since moving here from Mississippi last spring, 25-year-old Dashanta has used Metro transit for everything from getting to work to grocery shopping or visiting the mall. She's happy to be able to let someone else take the wheel.
"I love it," she said. "You get to meet new people and they're nice."
To get to work, Dashanta boards MetroLink at the North Hanley Station and rides to the Fairview Heights Station. From there, she boards the #12  O'Fallon-Fairview Heights bus to the Drury Inn where she works.
Dashanta said she's a "people person" while on the train and bus and likes striking up conversations with other passengers. She also enjoys scanning through her Facebook feed.
"I've met a lot people, but I know my MetroLink buddies when I see them," she said.
Return to Blog