January 13, 2016
Passengers, like David, depend on Metro transit to get to work, school and other important destinations. We hope you enjoy his story, and we're interested in your transit story too. Email [email protected], and we may share your story in a future "Passenger Profile."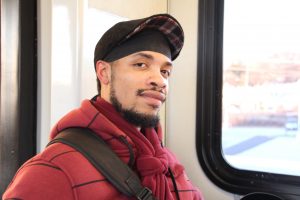 David is nearing the next chapter of his life, and he has relied on Metro to get him to this moment.
In a few months, David will graduate from Vatterott College in north St. Louis County. He'll earn his degree in welding and soon enter the workforce.
"I'm working on my resume right now," he said.
David has been riding transit for the last seven years, and as he prepares to take his next step forward, Metro is there to keep him moving toward that goal.
His regular commute starts by boarding a MetroLink train from the Shrewsbury-Lansdowne I-44 MetroLink Station and riding to the North Hanley MetroLink Station. He said it's about a 45-minute commute, the perfect amount of time for any last-minute studying. Vatterott College's NorthPark Campus is less than a half mile from the North Hanley MetroLink Station.
In addition to commuting Monday through Friday to school, David also uses MetroBus to visit friends. To do that, he usually boards the #16 City Limits or #30 Soulard.
"I use Metro because it saves me money," he said. "Plus, you don't have to deal with traffic."
Return to Blog